Honey Whiskey Lemonade Popsicles! Couldn't think of a better way to bid farewell to Summer than with these fresh homemade lemonade and honey whiskey frozen treats!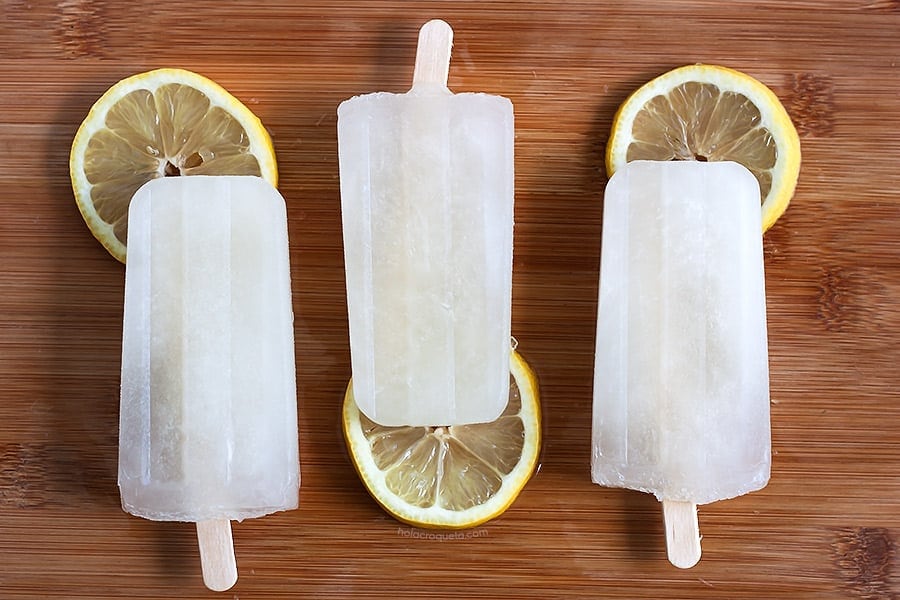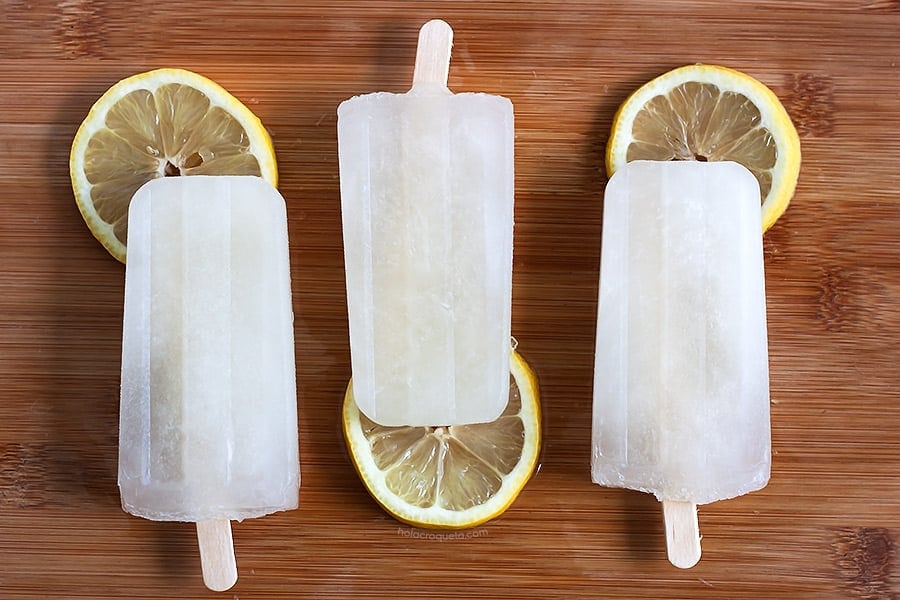 So long, Summer, see you next year! LOL jk, I live in Miami. Today, it was 100 degrees here in good ol' Miami, FL. Yep, 1-0-0 in September in Miami. The most humid place on Earth. Don't quote me on that. As I've mentioned plenty of times on this blog, we don't know what seasons are here in Miami. Sure, we shouldn't complain. After all, 'hot and humid' is better than 'snowed in and tornadoes'. At least, we have the choice of being cool or hot. If you want hot, walk outside for 10 seconds. If you want cool, walk inside any car, home, or nearby locale. I assure you, the air conditioner is at 60 degrees.
If you're not lucky enough to live in Miami where it's Summer for about 11 months out of the year, then today really is your last day of Summer. Wahhhhh. Therefore, this recipe is for you! Let's drink our sorrows away with these frozen treats! Wait what? Yes, these are boozy popsicles. Adult pops, if you will. These lemonade popsicles have just enough honey whiskey to make you forget that today is the last day you should be enjoying popsicles. Unless you like to break rules, then you can make these at any time!
I had been experimenting with boozy pops since July. Particularly popsicles with drunken gummy bears inside. You know gummy bears soaked in vodka? Yeah, my friends and I love those! Sadly, every time I made gummy bears with vodka and added them with a mixer to the popsicle molds, they would fall apart! We still ate them though, albeit in pieces. I still want boozy gummy bear popsicles! Grrrr. I will succeed one day. You'll see. For now, let's bask in the glory of these perfectly made Honey Whiskey Lemonade Popsicles because they really are as refreshingly delicious as they sound (and look)!
Honey Whiskey Lemonade is one of my favorite Summer concoctions. I hope, in its frozen form, it will become your favorite too.
Enjoy!
Ingredients
1

cup

sugar

1

cup

water

6

lemons

,

juiced

4

cups

cold water

3

cups

honey whiskey

,

I used Jack Daniel's Tennessee Honey Whiskey

Popsicle mold with wooden popsicle sticks
Instructions
In a saucepan, heat sugar and 1 cup water until the sugar dissolves completely.

Add the juice from the lemons and the sugar water to a pitcher. Add 4 cups of cold water. Stir. If the lemonade is a little sweet, add a little more juice.

In the popsicle mold, add about 1/3 cup of honey whiskey then add lemonade to each mold. Add popsicle sticks and freeze for at least 8 hours before serving.
---
Thank you for being here!