Honey Whiskey Lemonade Popsicles. A quick and easy popsicle recipe made with fresh homemade lemonade and Jack Daniel's Honey Whiskey. Refreshing for a hot summer day!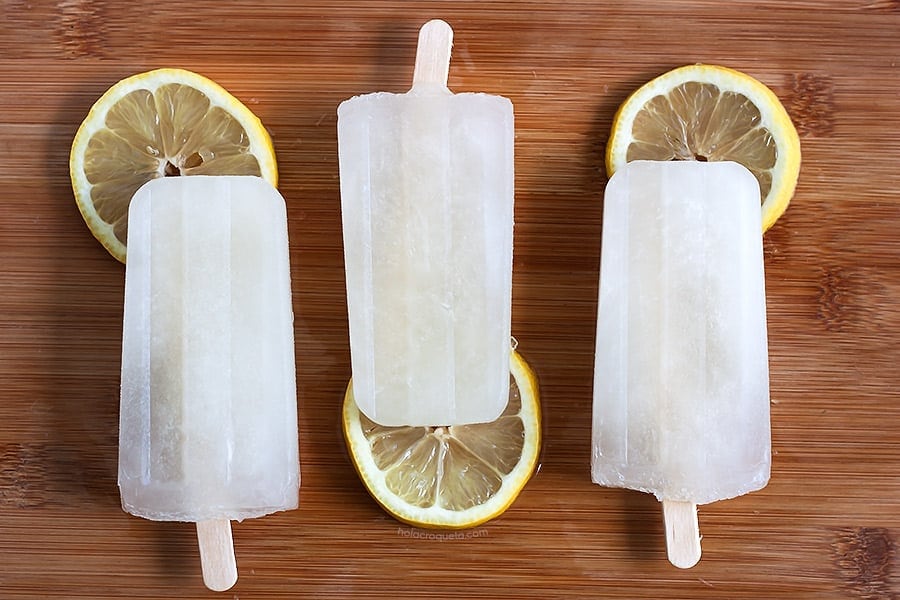 For a long time, pool parties in my circle of friends have always been accompanied by honey whiskey lemonade. It's been my favorite day drinking beverage of choice for years. Honey whiskey + lemonade. That's it. Have you tried had that? Highly recommend. It's so refreshing, sweet and tart. Perfection. I got my friends hooked on it because it's just such a thirst quencher when it's super hot outside. But be careful…it can creep up on it…trust me…
Sooo I decided, why not take this a step further and turn my favorite day drinking bev into a frozen art form.
Honey whiskey lemonade popsicles!
This popsicle recipe is perfect for a hot Summer day. I mean, who doesn't love boozy pops!
All you need to do is make fresh homemade lemonade then add enough honey whiskey to make all your friends happy. The full recipe is below. Add the mixture into a popsicle mold and that's all folks!
Ingredients
1

cup

sugar

1

cup

water

6

lemons

,

juiced

4

cups

cold water

3

cups

honey whiskey

Popsicle mold with wooden popsicle sticks
Instructions
In a saucepan, heat sugar and 1 cup water until the sugar dissolves completely.

Add the juice from the lemons and the sugar water to a pitcher. Add 4 cups of cold water. Stir. If the lemonade is a little sweet, add a little more juice.

In the popsicle mold, add about 1/3 cup of honey whiskey then add lemonade to each mold. Add popsicle sticks and freeze for at least 8 hours before serving.
---
Nutrition Facts
Honey Whiskey Lemonade Pops
Amount Per Serving (1 popsicle)
Calories 55
* Percent Daily Values are based on a 2000 calorie diet.
You may also like: