Super easy, semi-homemade guava and cream cheese pop tarts made using refrigerated pie crust then topped with a drizzle of condensed milk. The perfect combination of a Cuban treat on an American classic.
In case you haven't noticed, I'm obsessed with guava and cheese. I've been making recipes with this dynamic duo all year.
You can find them all here.
Growing up in a Cuban family, you are taught that guava and cream cheese are just inseparable. Dessert on most days would be a sliver of guava paste with a sliver of cream cheese on top. Sometimes you would add a Maria cookie (which are buttery biscuits from Spain similar to a tea biscuits).
To make life easier (and get these quickly in my tummy), I'm using refrigerated pie crust. Your favorite pastry dough recipe will work just as fine too but let me tell you, these were so easy to make and came out pretty freaking delicious.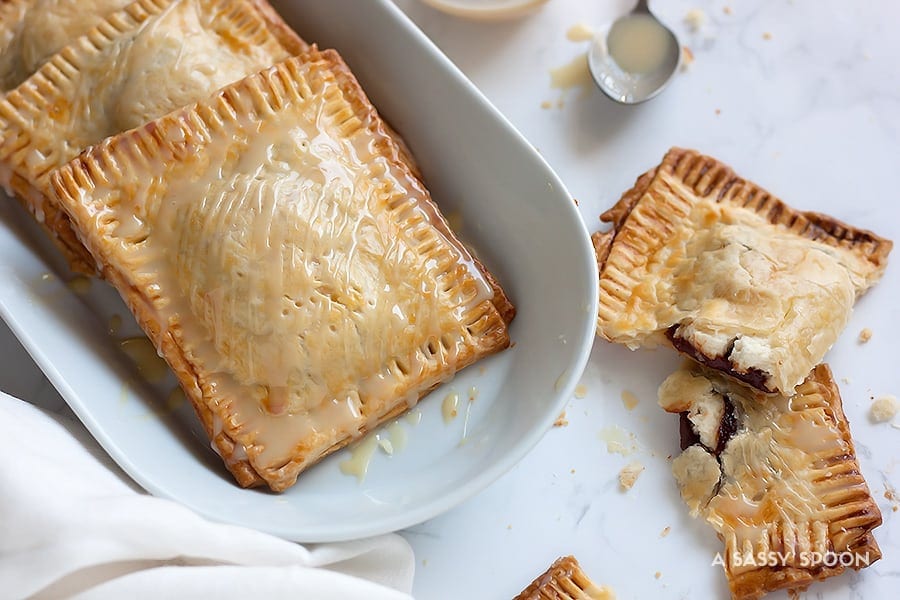 The filling is the real star of the recipe. Plus adding that drizzle of condensed milk? C'mon! How much better can this get! You can also just dip the entire pop tart into the condensed milk or even pour some on top instead of drizzle – you are the master of your own destiny.
Give these a shot and let me know how they come out for you. Your kids will love them! Perfect for Saturday mornings, a quick on-the-go breakfast with your coffee, or a snack.
Speaking of, whatever happened to Saturday morning cartoons, do they still exist? I miss Looney Tunes and Tom & Jerry.
Ingredients
1

package

refrigerated pie crust

4

ounce

guava paste or marmalade

4

ounce

cream cheese

,

room temperature

1

egg

,

beaten

condensed milk for drizzling
Instructions
Preheat oven at 425 degrees F.

Roll out of the pie crust. Using a rolling pin, create a rectangle out of the pie crust. Cut the rectangle into 6 small rectangles. Repeat with the other pie crust. You should have 12 rectangles total.

Place 6 of the 12 rectangles on a lined baking sheet. Make sure they are 1 inch apart from each other. Add about 1-2 slivers of guava paste or guava marmalade and a sliver of cream cheese onto each rectangle, without letting it touch the edges.


Top the rectangles with the 6 remaining rectangles and seal by pinching all the sides with a fork. Brush each rectangle with egg wash.

Bake for 8 minutes or until golden brown. Cool completely before serving. Drizzle with condensed milk and enjoy!

---
Thank you for being here! <3
---
This page contains affiliate links. This means that if you click on one of the product links above and complete a purchase, I'll receive a small commission. Do understand that I will never place a link nor make a recommendation on a product or service that I don't love or use personally. Thank you for keeping A Sassy Spoon, sassy. ;)