Packed with healthy fat, fiber, and protein, these chocolate coffee protein balls are a delicious snack and easy-to-make.
In case you don't know, we're big coffee drinkers over here in Miami. And I'm not talking Starbucks. I'm talking super strong Cuban espresso with lots of sugar, aka tiny shots of crack. Think espresso with a layer of foamy sugar on top. And yes, it's as delicious as you can imagine. If you follow me on Instagram, I'm sure you saw when my mom made Cuban coffee for the entire family. Click here to relive the magic.
As part of this city's culture, it's very common to buy a colada to share when we go to a nail salon, to visit a client or even to share with strangers. It's a $1 that brings people together. This is what a colada looks like. Aside from that, we enjoy a shot of this sweet nectar at around 3pm daily. Why? Because that's the afternoon slump. We need the boost!
With that in mind, I wanted to make these chocolate coffee protein balls to gives us that caffeine boost without all the refined sugar. That's not to say that we're never going to enjoy a shot of Cuban coffee. But these chocolate coffee protein balls are a great option for satisfying that sweet tooth in the middle of the day. Also, there are a few diabetics in my circle so it was important to me to find a healthier alternative for them. Dates are said to not spike blood sugar.
If you are making salsas or sauces or simply prepping ingredients, a food processor is a must have! It chops and blends so quickly, saving you so much time!
I updated this recipe from 2016 by making the following tweaks:
First, I reduced the number of dates from 15 dates to 8 dates.
Instead of soaking the dates in water, we're soaking them in cooled, brewed espresso. I used Nespresso (ristretto) in this recipe but you can use any strong coffee or cold brew. I found that this method made the dates have a caramel feel with a subtle coffee taste which I LOVE.
Lastly, we're adding more almonds (hooray for more protein + healthy fats!) and no coffee grounds. I felt like the coffee grounds were making these protein balls slightly bitter.
The result of these tweaks made took these chocolate coffee protein balls to the next level. They are delicious, packed with rich flavor and made with wholesome ingredients!
Can't wait for you guys to make them!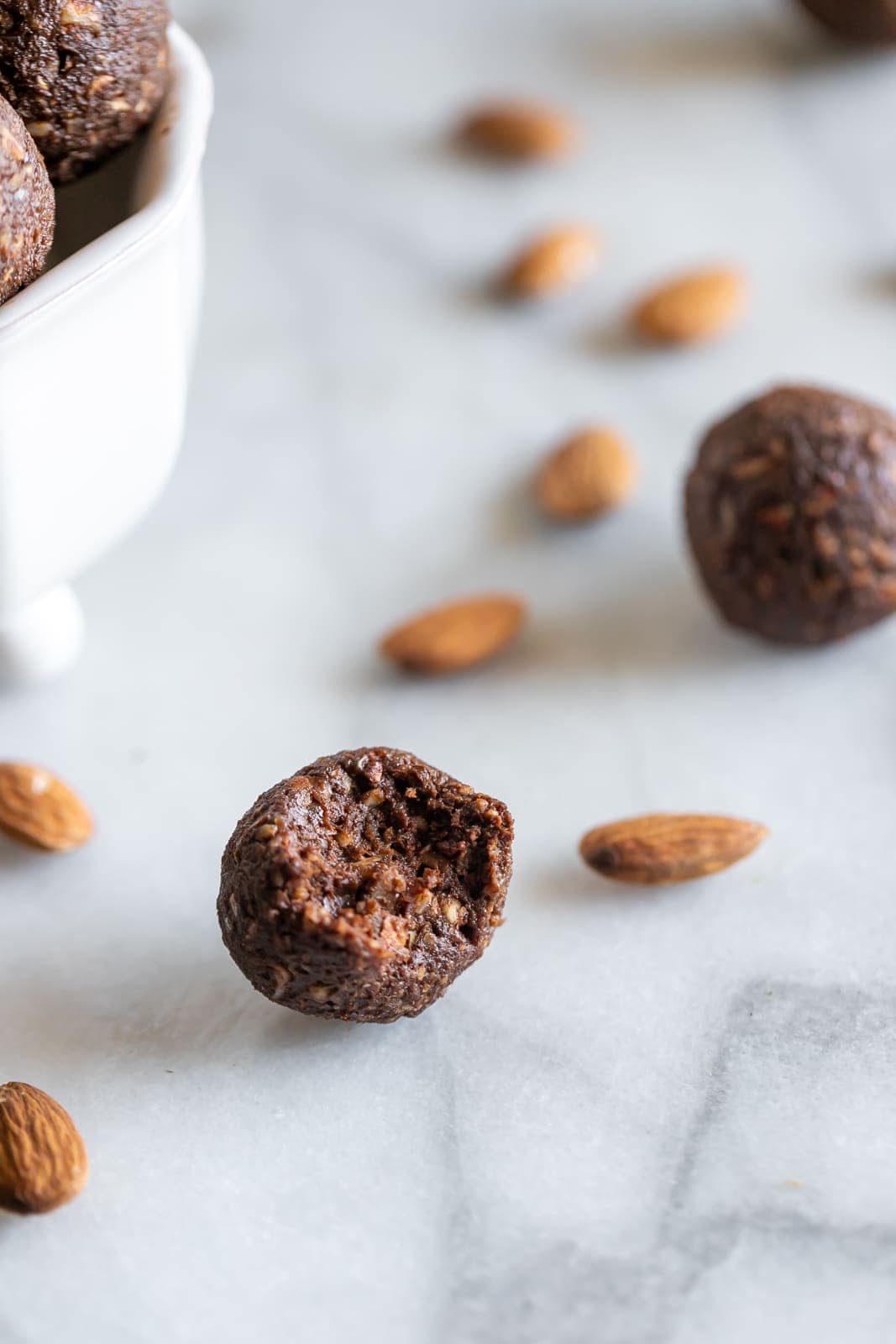 No-Bake Chocolate Coffee Protein Balls
Packed with healthy fat, fiber, and protein, these no-bake chocolate coffee protein balls are delicious, easy-to-make, vegan, paleo and refined sugar-free!

Ingredients
8 medjool dates pitted
1/2 cup (strong) cooled brewed espresso or cold brew
1 cup raw almonds
1/4 cup unsweetened cocoa powder
1 tablespoon chia seeds
Pinch of sea salt
Instructions
In a bowl, soak dates in the brewed coffee for 15 minutes. Drain the dates but don't discard the brewed coffee.

To a food processor, add the dates. Pulse dates for 2 minutes. Add 1 tablespoon of the brewed coffee until the dates become a thick caramel-like paste.

Add the rest of the ingredients into the food processor – almonds, cocoa powder, chia seeds and sea salt. Pulse a few times until a dough-like mixture forms. If you want it crunchy, don't blend for too long.

Form mixture into 1-inch bites by hand. Refrigerate in an airtight container for 1 week or in an airtight resealable freezer bag in the freezer for up to 3 months. Enjoy!
Nutrition
Serving: 1 protein ballCalories: 118 kcalCarbohydrates: 14.4 gProtein: 3.6 gFat: 6.5 gSaturated Fat: 0.6 gSodium: 21 mgPotassium: 126 mgFiber: 3.5 gSugar: 9.5 gCalcium: 30 mgIron: 0.9 mg
This post was originally published in August 2016. Updated recipe + photos in February 2019.
You may also like:
SHOP THE RECIPE