Easy Chipotle Mexican Street Corn Recipe! Fire-roasted corn mixed with spicy chipotle mayo and mozzarella then topped with crushed pork rinds, crumbled cotija and chives.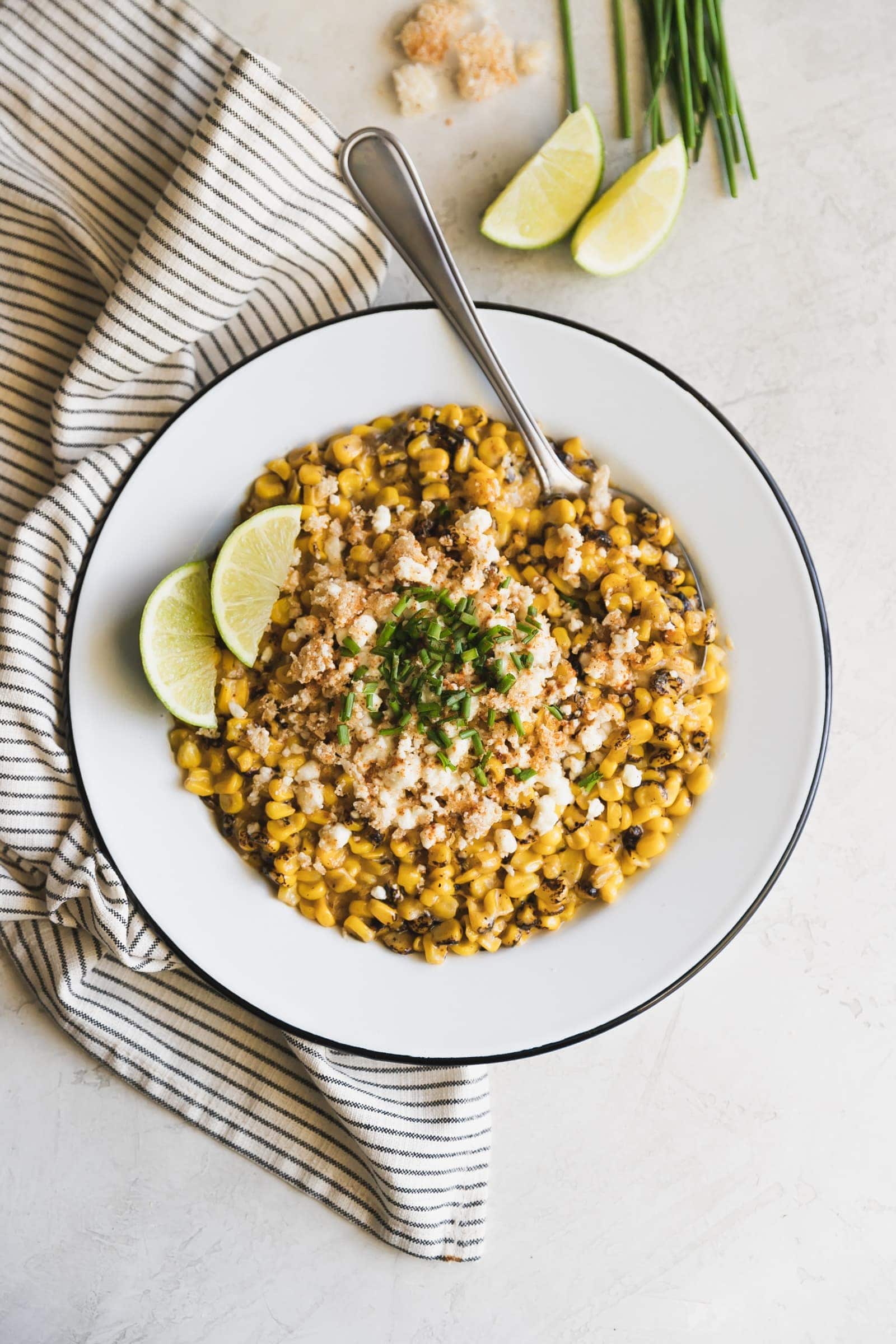 A few months ago, I went to a spot here in Miami called Amelia's 1931 for a friend's birthday.
A little cozy spot with retro vibes that has a menu full of Cuban twists. My fave! It's just a few blocks away from their other (and my favorite) restaurant, Finka Table + Tap. They are both family owned by the same people and honestly, I just love their fusion brain. All their meals are made with Korean and Peruvian influences and 1000% all about it.
Amelia's and Finka are similar in a lot of ways but Amelia's is like Finka's little sister. Smaller venue, smaller menu. Food, however, is still totally up to par to what we're used to from Finka. And that's all that matters! We tried a bunch of stuff from their menu while we were there but one of the most memorable dishes was their Chipotle Corn.
Yum! Omg. Listen to this, an appetizer of charred corn mixed with mozzarella, spicy mayo, spices and a chicharron (pork rinds) crumble.
Chicharron (chee-cha-rron, let's hear those r's!). WHYYY does chicharron make everything better?!
Of course, I could never recreate their exact recipe but I can sure try! This is my rendition of this delicious masterpiece.
How To Make this Mexican Street Corn Recipe
Pretty sure charring corn on the cob on the grill is WAY tastier but when you live in a grilling-is-off-limits building, you make do with what you have. And I had a bag of frozen fire roasted corn from Whole Foods (you can also grab one at Trader Joe's).
Watch how easy it is to make this.
So now, you heat up/cook the frozen corn then transfer it to a skillet. Add spicy mayo (cayenne + mayo or your favorite store-bought brand) and shredded mozzarella cheese. Stir until you get a creamy consistency. Transfer all that goodness to a plate and top with cotija, crushed pork rinds and chopped up chives. Literally perfection.
Another way I've made these is to transfer the corn mixture to a mini cast iron skillet (like this one) before adding the cheese, topping the corn mixture with the shredded mozz, and broiling it in the oven until it's all bubbly and toasty.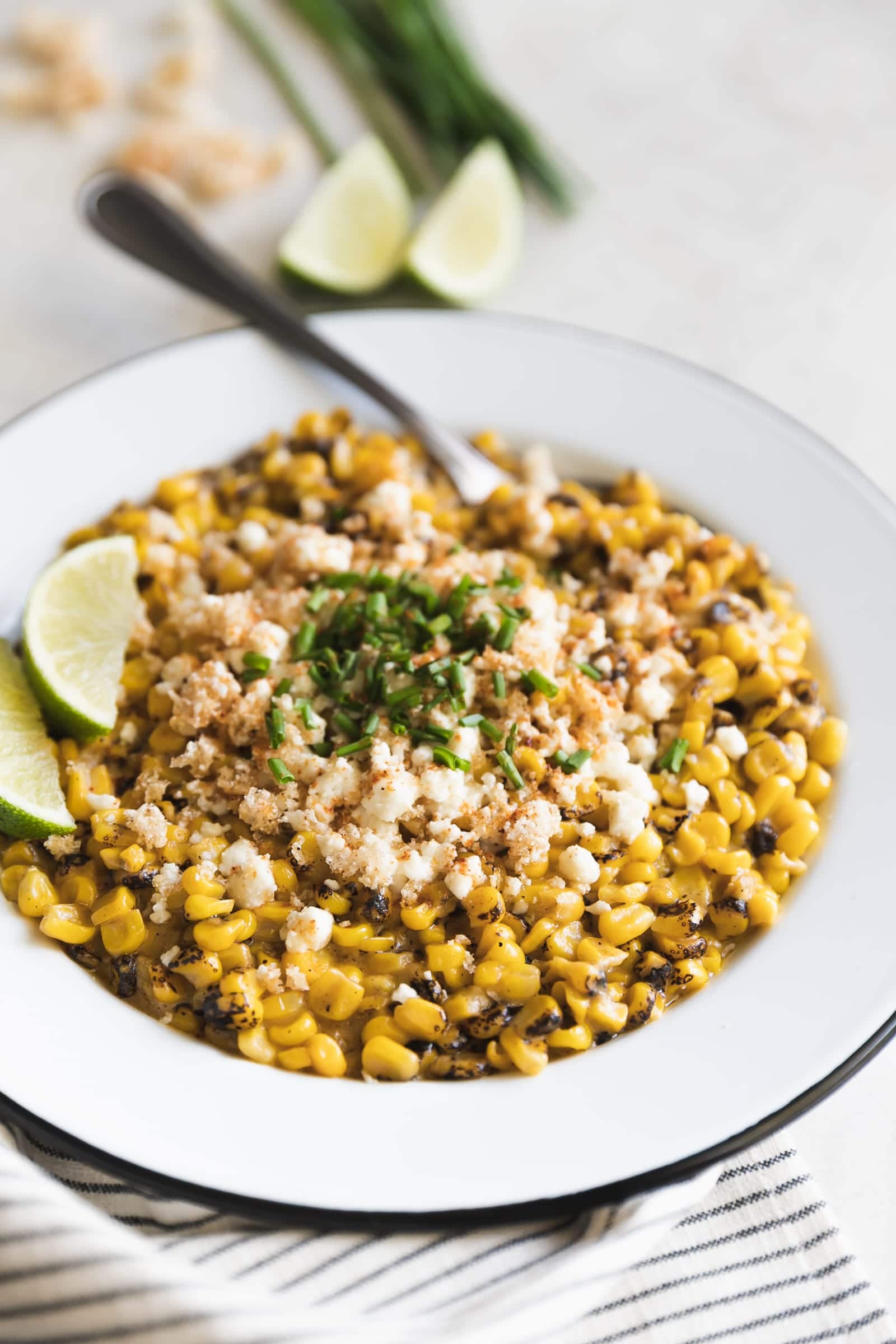 I mean, this is next level Mexican street corn!
No matter how you make it, you will definitely be in for a tangy, sweet, spicy and cheesy treat! It's indulgent and delicious. Perfect as a side dish, appetizer or for Cinco de Mayo as a dip with chips.
Make it and report back. I have a feeling you're going to LOVE this one!
Ingredients
1

lb

bag frozen roasted corn

,

(I buy the bag from Trader Joe's or Whole Foods)

1/3

cup

mayonnaise

2

teaspoons

cayenne pepper

,

(or more if you love spicy!)

1

cup

shredded mozzarella

Crumbled cotija for garnish

Crushed pork rinds for garnish

Chopped chives for garnish
Instructions
Heat corn according to package instructions.

In a hot skillet, add cooked roasted corn, mayo, and cayenne pepper. Stir to combine until creamy consistency over medium heat. Add shredded mozzarella and stir until melted and combined. (*see notes for alternative method)

Transfer to a plate. Top with cotija, pork rinds, (sprinkle of cayenne pepper, optional) and chives. Serve immediately as a side dish, appetizer or with chips as a dip. Enjoy!
Notes
*Alternative method: You can also top the corn with all the mozz instead of stirring it in then broil for 3-5 minutes until browned for more cheesy pull action.
---
Nutrition Facts
Easy Chipotle Mexican Street Corn Recipe
Amount Per Serving (1 serving)
Calories 217
Calories from Fat 126
% Daily Value*
Fat 14g22%
Cholesterol 20mg7%
Sodium 200mg8%
Potassium 250mg7%
Carbohydrates 19g6%
Protein 7g14%
Vitamin A 404IU8%
Vitamin C 6mg7%
Calcium 97mg10%
Iron 1mg6%
* Percent Daily Values are based on a 2000 calorie diet.