Welcome to the easiest appetizer you'll ever make! This dish is ready in 30 minutes with more than half the time being hands-off. Love that for us.
This shrimp ceviche is a family recipe and it tastes light, bright, and clean with a refreshingly tart flavor.
It's seriously SO good!
What is Ceviche de Camaron?
Not to be confused with shrimp cocktail, ceviche de camaron [pronounced se-bi-che deh kah-mah-rohn] is a seafood dish made with raw shrimp that is cured (aka cooked) in citrus juice and mixed with chopped veggies.
There are several variations of this recipe from Mexico, Peru, Ecuador, and other Latin American countries. Sometimes, it's referred to as seviche or cebiche.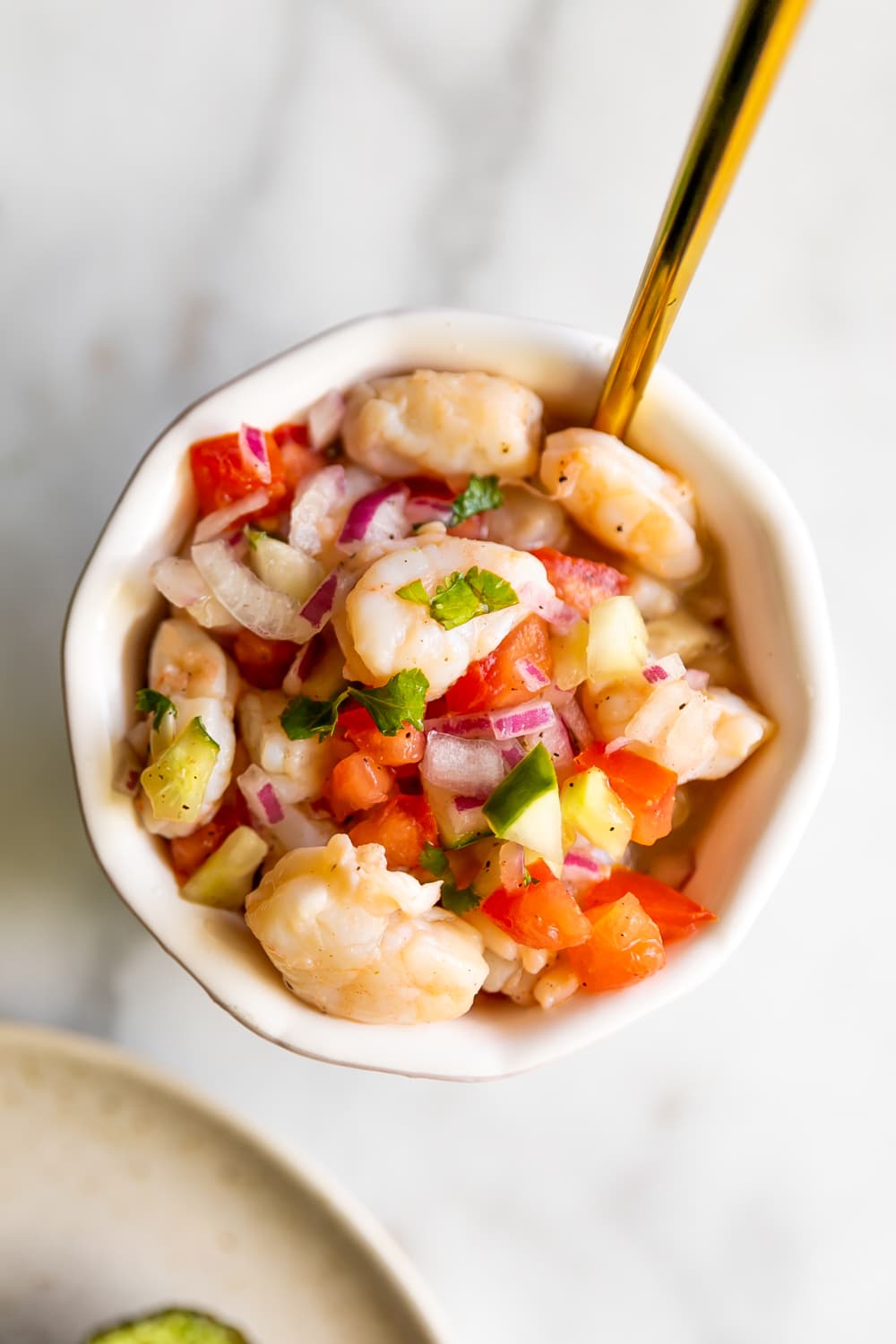 Ingredients You'll Need
Some recipes call for ketchup however I'm not a fan and do not recommend it.
How To "Cook" The Shrimp for the Ceviche
There's actually no "cooking" involved in this recipe. No ovens, no stoves. Just citrus!
The citrus "cooks" the shrimp, the same way heat does.
This process is called denaturation. The citrus (or heat) changes the proteins in the fish altering its chemical and physical properties turning the flesh firm and opaque.
I used this handheld lime squeezer to get every last drop of citrus!
When you're done with this recipe, make my camarones al ajillo (Spanish garlic shrimp recipe)!
Is shrimp ceviche safe to eat?
At first, I was skeptical about this way of "cooking" shrimp however as long as you buy high-quality shrimp from a trusted source AND properly "cook" the shrimp, you should be fine.
If you "cook" the shrimp for more than 30 minutes, it will be "overcooked" and tough to chew.
If you "cook" the shrimp for 15-20 minutes, I find that is the sweet spot for not only perfectly cooked shrimp but also for harmful bacteria and parasites to be killed off.
How To Make Ceviche de Camaron
This squeezer is a handy tool that makes extracting citrus juice a breeze. It juices lemon or limes quickly, with no seeds and no mess.
How long does shrimp ceviche last?
I would make this ceviche recipe the 'day of' and consume it within 24 hours of making it.
This is not the type of recipe you want to keep around as leftovers or freeze for later. It is best consumed the same day you make it.
What to Serve With Ceviche de Camaron
I love to stuff avocados with shrimp ceviche but you can also serve this dish with:
Can't wait for you to make it!
Looking for another fun recipe? Try my Avocado Cucumber Salad with Sirloin Steak Tips!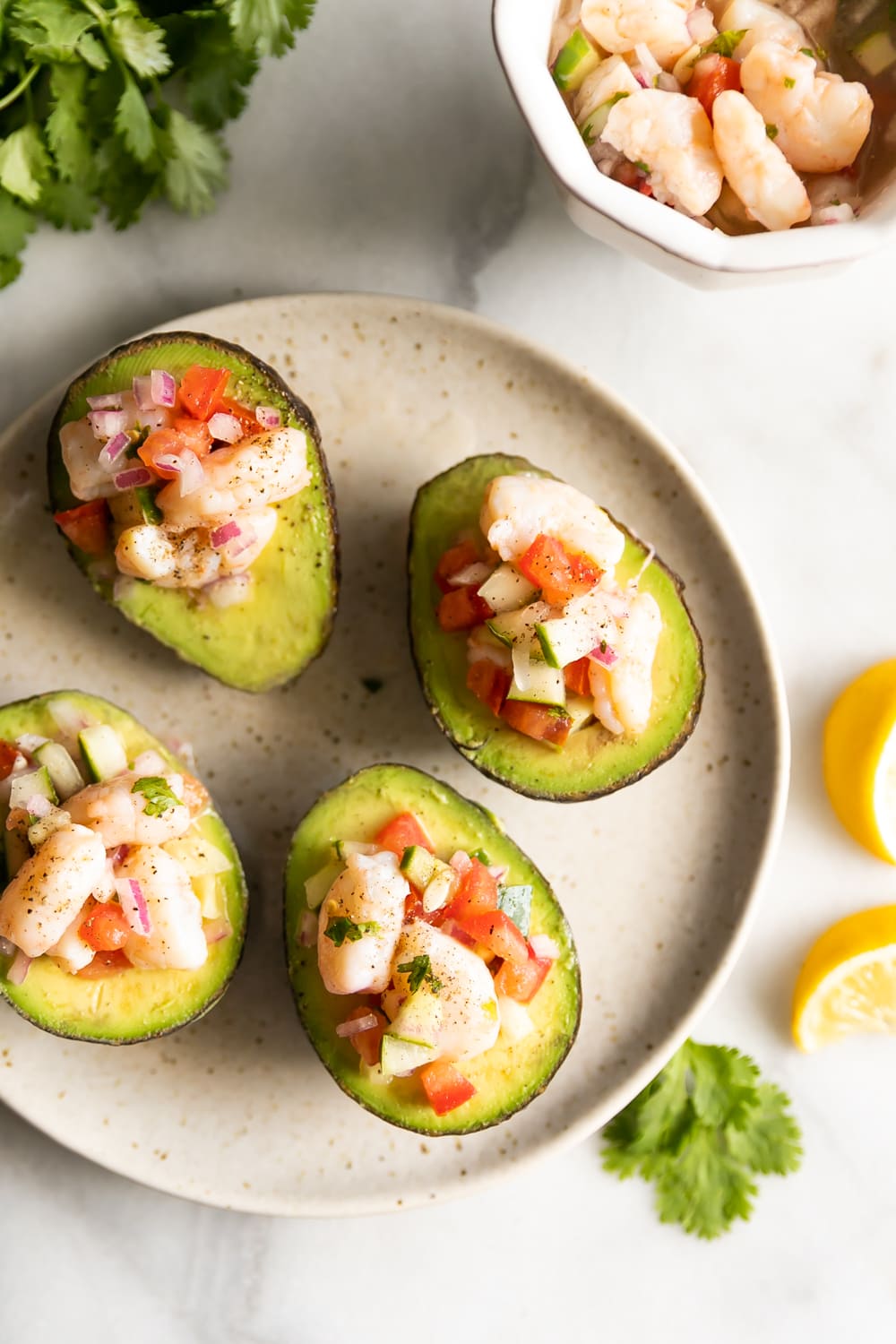 You may also like: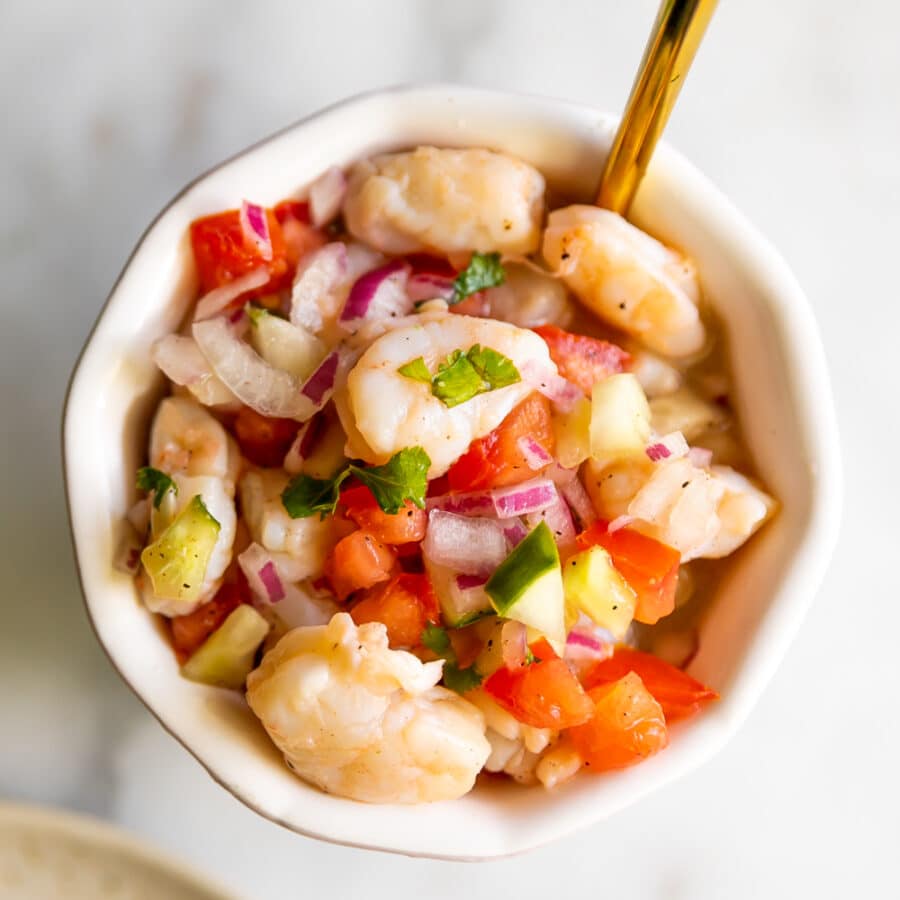 Ceviche de Camaron (Easy Shrimp Ceviche)
Ceviche de camaron is an easy shrimp ceviche recipe made with succulent shrimp, red onion, cucumber, tomato, cilantro, and citrus. Simple, delicious, and the perfect appetizer for any day of the week!
Ingredients
1 lb shrimp peeled and deveined
1/2 cup finely diced red onion
2/3 cup finely diced cucumber
1/2 cup finely diced tomato
1/4 cup finely chopped cilantro
1/2 cup fresh lime juice (from 3-4 limes)
1/2 cup fresh orange juice (from 1-2 oranges)
Salt + pepper to taste
To serve the shrimp ceviche
Instructions
Cut the shrimp into small 1/2-inch pieces and transfer them to a bowl.

To the bowl, add the red onion, cucumber, tomato, cilantro, lime juice, orange juice, and salt + pepper to taste.

Gently stir to combine. Cover the bowl with plastic wrap and chill for 15-20 minutes. No more than 30 minutes or you run the risk of the shrimp being overcooked.

Serve the ceviche chilled with lime wedges, tortilla chips, tostones, plantain chips, and/or avocados. Enjoy!
Nutrition
Serving: 1 servingCalories: 107 kcalCarbohydrates: 8 gProtein: 16 gFat: 1 gSaturated Fat: 1 gPolyunsaturated Fat: 1 gMonounsaturated Fat: 1 gTrans Fat: 1 gCholesterol: 143 mgSodium: 645 mgPotassium: 299 mgFiber: 1 gSugar: 3 gVitamin A: 504 IUVitamin C: 23 mgCalcium: 78 mgIron: 1 mg