Whether it's Easter Sunday, Thanksgiving, or Christmas dinner, baked ham is a classic and tried & true meal that I think every family loves (even my Hispanic family!). It really is the best of the best when done correctly.
I took a page out of my Brown Sugar Glazed Kielbasa Bites recipe and got inspired to make a brown sugar glaze that would be perfect for baked ham.
I added rum to spice things up. Baked ham made with rum and coke? Imagine that.
This delicious brown sugar glazed baked ham is moist and tender with a hint of caramelized sweetness from the glaze.
Let me show you how to bring this beauty to life.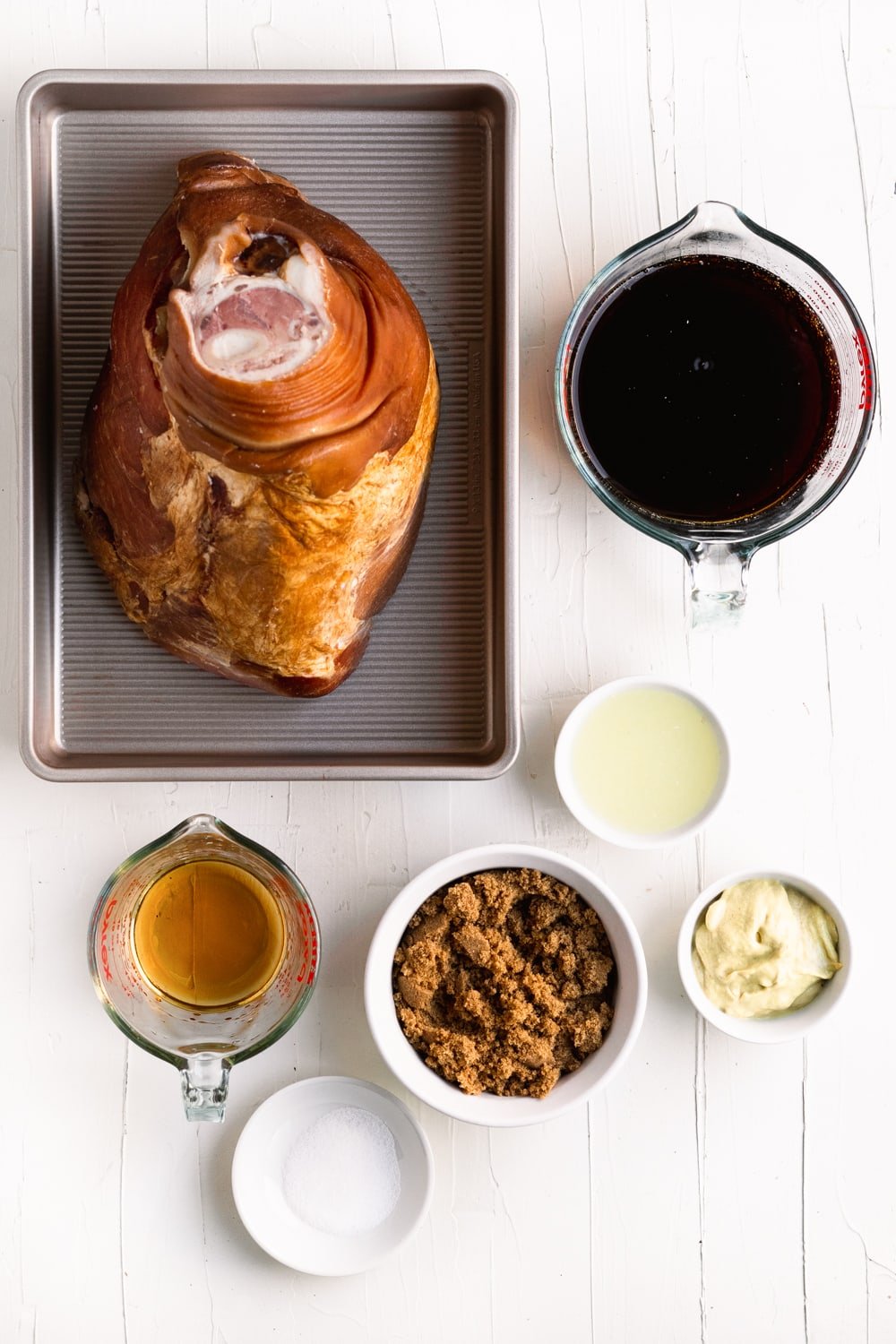 Ingredients You'll Need
Bone-in fully smoked half ham butt. I do not recommend a spiral-cut ham. They are typically more processed and dried out. Not a fan.
I highly recommend and prefer a bone-in half ham butt that's fully smoked (or cured) with natural juices. A half ham butt is more tender with fattier meat and a more rich flavor. It's also easier to slice too.
Boneless hams are mushy and a whole ham is way too complicated to carve. I'm all about keeping things easy and the ham butt is the way to go. Such a moist, juicy result!
For the brown sugar glaze, you will need: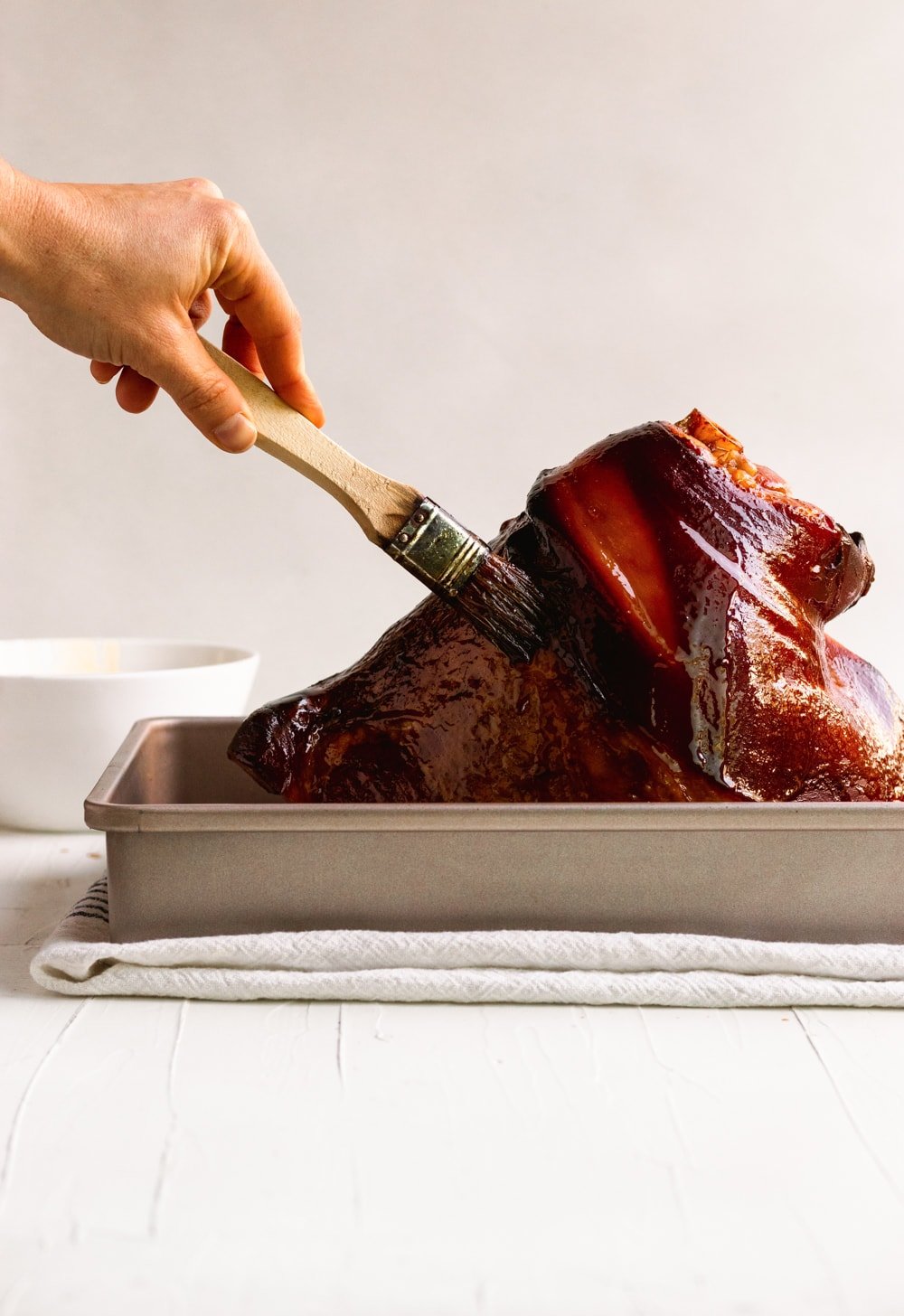 How To Make Brown Sugar Glaze for Ham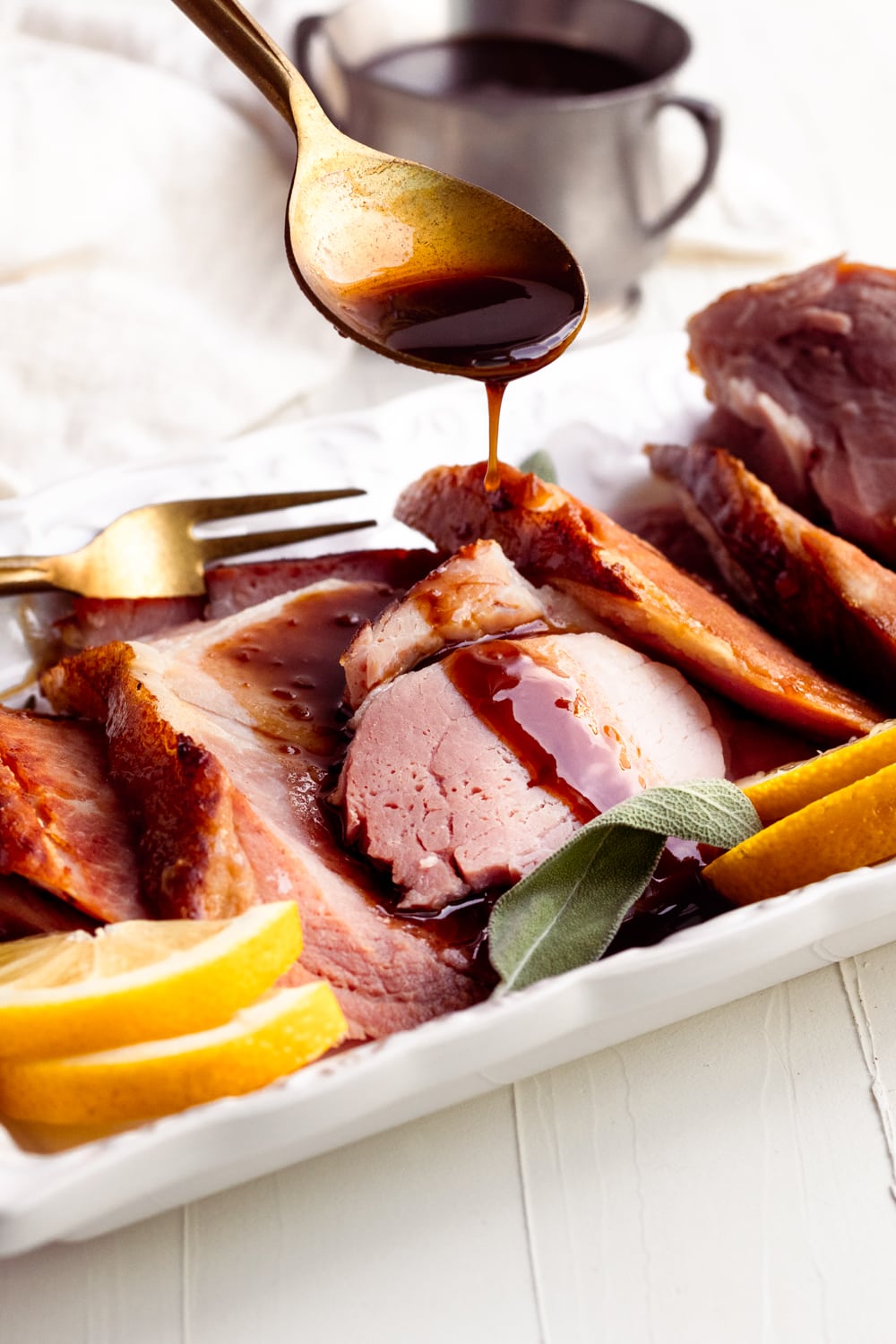 How To Make a Baked Ham
I highly recommend this nonstick roasting pan! It features a removable chrome-plated rack that raises meats up to allow fats to drip away.
How much ham do you need per person?
You need 1/2 pound of ham per person so for this recipe, you need a 5 lb ham which will feed about 10 people.
How long do you bake a ham for?
The rule of thumb is to bake a ham for 15 minutes for every pound. The ham is fully cooked when the internal temperature reaches 145ºF.
How do you keep the ham moist?
To keep the ham moist, I like to bake it covered completely in aluminum foil and add 1 cup of coca-cola which will create steam. The foil keeps the steam in and the moisture from the cola keeps the ham moist and doesn't dry it out as it bakes.
What can I serve with baked ham?
You can serve ham with white rice, Spanish yellow rice, mac + cheese, mashed potatoes, and/or sweet potato mash.
You may also like: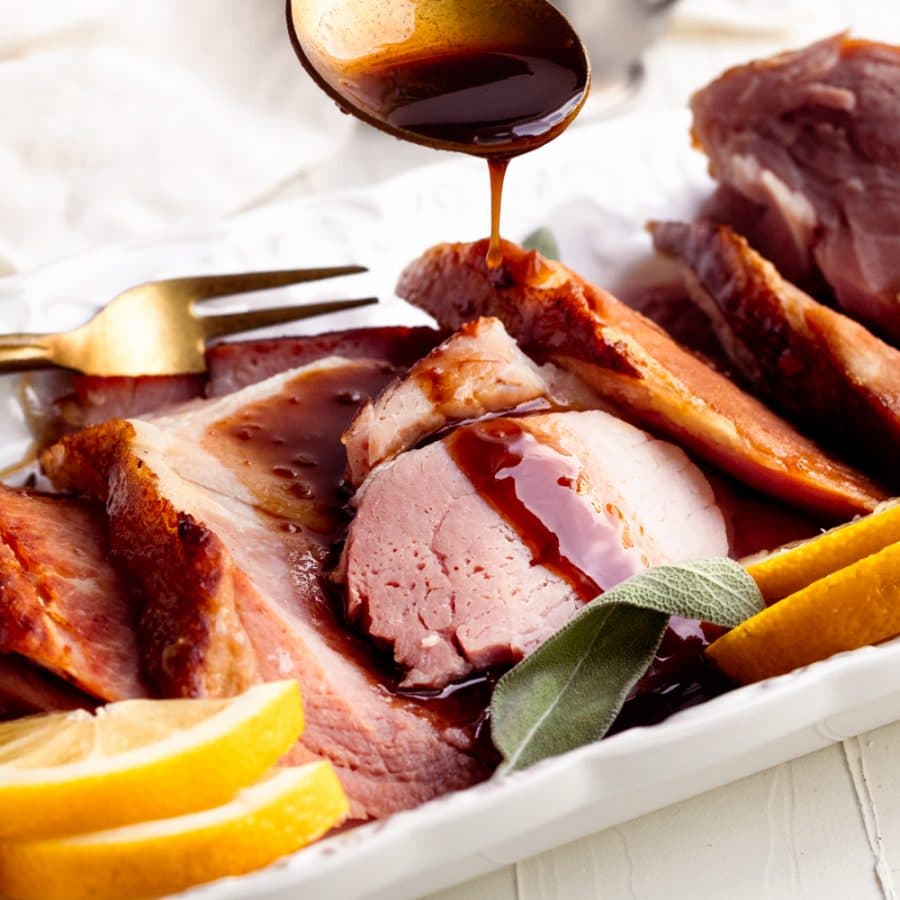 Baked Ham with Brown Sugar Glaze
Moist, tender, baked ham made with a rum and coke brown sugar glaze which adds a hint of incredible caramelized, sweetness. Perfect for the holidays or any day of the week!
Ingredients
5 lbs bone-in fully smoked half ham butt skin trimmed (not the spiral one)
3 cups coca-cola divided
1 cup brown sugar packed
1/4 cup Dijon mustard
1/4 cup fresh lime juice
1 teaspoon salt
1/4 cup spiced rum or bourbon
Lemon slices and fresh sage leaves for garnish
Instructions
Bring the ham to room temperature.

Preheat the oven at 325°F.

Place the ham, flat side down, in a roasting pan. Pour 1 cup of coca-cola into the pan. This will help to keep the steam in so the ham is super moist.

Cover completely in aluminum foil and bake for 2 hours until a thermometer inserted into the thickest part of the ham registers 130ºF.

Meanwhile, make the brown sugar glaze. In a saucepan, whisk 2 remaining cups of coca cola, brown sugar, Dijon, lime juice, and salt. Bring to a boil. Reduce heat and simmer, uncovered, for 10-15 minutes until the glaze has slightly thickened and reduced. Remove from the heat and stir in the rum. Taste and adjust salt as needed. Set aside.

In the last 25 minutes of baking time, remove the foil from the ham and brush the brown sugar glaze all over.

Place the ham back in the oven (without the foil) and continue baking until golden brown. The ham is fully cooked when a food thermometer reads 145°F internal temp. Careful not to overcook it or you will end up drying it out.

Remove ham from the oven and let it rest for 10-15 minutes. Slice the ham and serve with the leftover brown sugar glaze. Enjoy!
Nutrition
Serving: 1 servingCalories: 551 kcalProtein: 49 gFat: 38 gSaturated Fat: 14 gPolyunsaturated Fat: 4 gMonounsaturated Fat: 18 gCholesterol: 141 mgSodium: 2692 mgPotassium: 649 mgCalcium: 16 mgIron: 2 mg