A deliciously creamy roasted cauliflower gratin made with a simple cashew cheese sauce then topped with a cheesy bread crumb topping.
This post is sponsored by Califia Farms. All opinions are my own.
When you're "team vegan" or "team dairy-free", I'm pretty sure you dread dinner parties or even holidays because of the lack of options. Maybe not all of you, but most of you do. I know my sister and niece feel like that sometimes. So why not give them delicious vegan options like this roasted cauliflower gratin!
A gratin is a traditional dish with a main ingredient that is lightly browned with breadcrumbs and/or melted cheese. I like to call this gratin – the perfect lazy girl side dish. Why? Because it's so easy to make!
This vegan gratin has roasted cauliflower florets and a simple cashew cheese sauce made with Califia Farms Organic Cashew Homestyle Nutmilk and a cheesy bread crumb topping. This cashew nutmilk is SO creamy and smooth. I absolutely love the flavor. It's also perfect for making this cashew cheese sauce without having to soak cashews. Who has time for that!?
This organic cashew nutmilk is soy-free, dairy-free, gluten-free, kosher, vegan, and BPA-free. It's made with simple ingredients like cashews, macadamia nuts, oats, sea salt, coconut cream, and almonds. I mean honestly, what you see is what you get.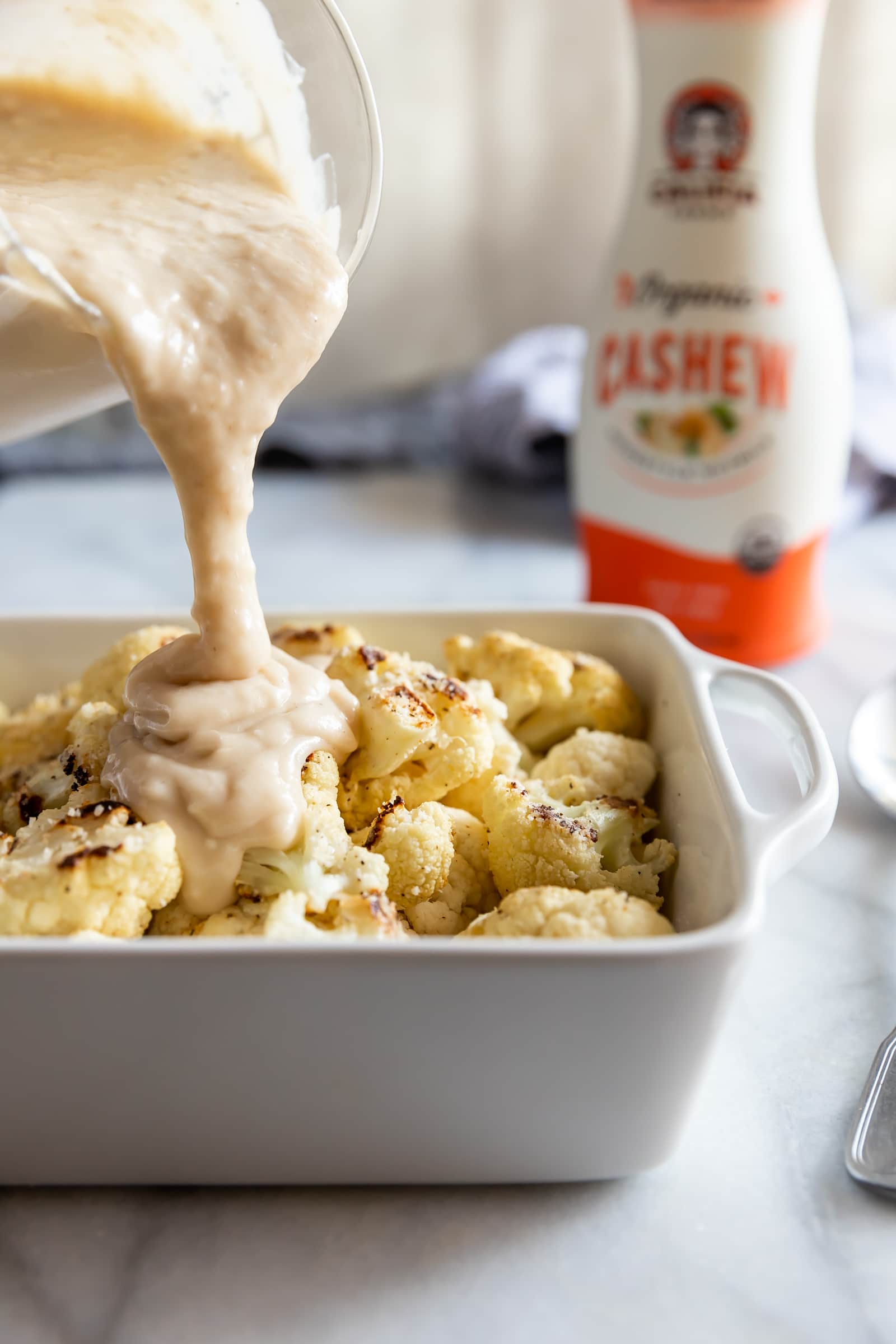 How creamy does that look! Here's how to bring it to life.
First, you roast the cauliflower florets. This part is pretty hands off because you just add some olive oil, salt and pepper to the florets and the oven does the rest. Win!
While the cauliflower florets are roasting, make the cashew cheese sauce. This step usually requires soaked cashews but I wanted to try to make do without them. And that I did, friends. The cashew milk was creamy enough to result in a thick and delicious sauce. In a saucepan, you melt the butter at low heat then add flour, cashew milk, and nutritional yeast. Whisking it all together, make sure you get a thick, yet pourable consistency. Once you remove it from the heat, you stir in the spices.
Remove the now roasted cauliflower florets from the oven and transfer them to a baking dish. Pour the cashew cheese sauce evenly on top of the cauliflower then top with more nutritional yeast and bread crumbs. Bake, serve, and that's all folks!
How easy was that! I added some chopped parsley as garnish but that's totally optional.
This Staub casserole dish is absolutely incredible! It has a porcelain-enamel finish and is microwave/dishwasher safe!
Honestly guys, I had my doubts about this dish but I have 0 complaints. The cauliflower is tender, that cashew sauce is creamy, smooth, and flavorful, and this gratin is going on my Thanksgiving menu this year. I have a feeling this one will be a hit with your friends and family this year too.
You may also like:
Thank you Califia Farms for sponsoring this post and a HUGE thank you to all the readers of this blog for all your support! xo
Vegan Roasted Cauliflower Gratin
A deliciously creamy roasted cauliflower gratin made with a simple cashew cheese sauce then topped with a cheesy bread crumb topping.
Ingredients
1 large head cauliflower cut into florets
2 tablespoons olive oil
4 tablespoons vegan butter
4 tablespoons all-purpose flour
2 cups Califia Farms Organic Cashew Homestyle Nutmilk
1/2 cup nutritional yeast , divided
1/2 teaspoon black pepper
1/2 teaspoon garlic powder
1/2 teaspoon smoked paprika
1/4 teaspoon nutmeg
1/4 cup Panko bread crumbs
Chopped parsley for garnish
Instructions
Preheat the oven to 450 degrees F. Line a baking sheet with parchment paper. Arrange cauliflower florets on baking sheet. Drizzle with olive oil, salt and pepper to taste. Toss well and roast for 15-20 minutes until florets are tender and browned. Remove from oven and reduce heat to 375 degrees F.

In a saucepan, melt butter over low heat. Add the flour and whisk for 1 minute. Pour the Califia Farms Organic Cashew Homestyle Nutmilk and 1/4 cup of nutritional yeast into the saucepan. Let it come to a boil while whisking constantly until thickened. Remove from heat. Stir in black pepper, garlic powder, smoked paprika and nutmeg. Set aside.

Transfer roasted cauliflower florets to a greased baking dish. Pour the sauce evenly on top. Sprinkle remaining nutritional yeast and Panko bread crumbs evenly over the top. Bake for 25-30 minutes or until top is browned. Serve immediately. Enjoy!
Nutrition
Serving: 1 servingCalories: 209 kcalCarbohydrates: 11 gProtein: 4 gFat: 17 gSaturated Fat: 3 gSodium: 119 mgPotassium: 110 mgFiber: 2 gSugar: 1 gVitamin A: 658 IUCalcium: 7 mgIron: 1 mg