A 30-minute version of the Cuban staple "arroz con salchicha" (Cuban yellow rice with Vienna sausages) using long grain rice, spices and chicken sausage.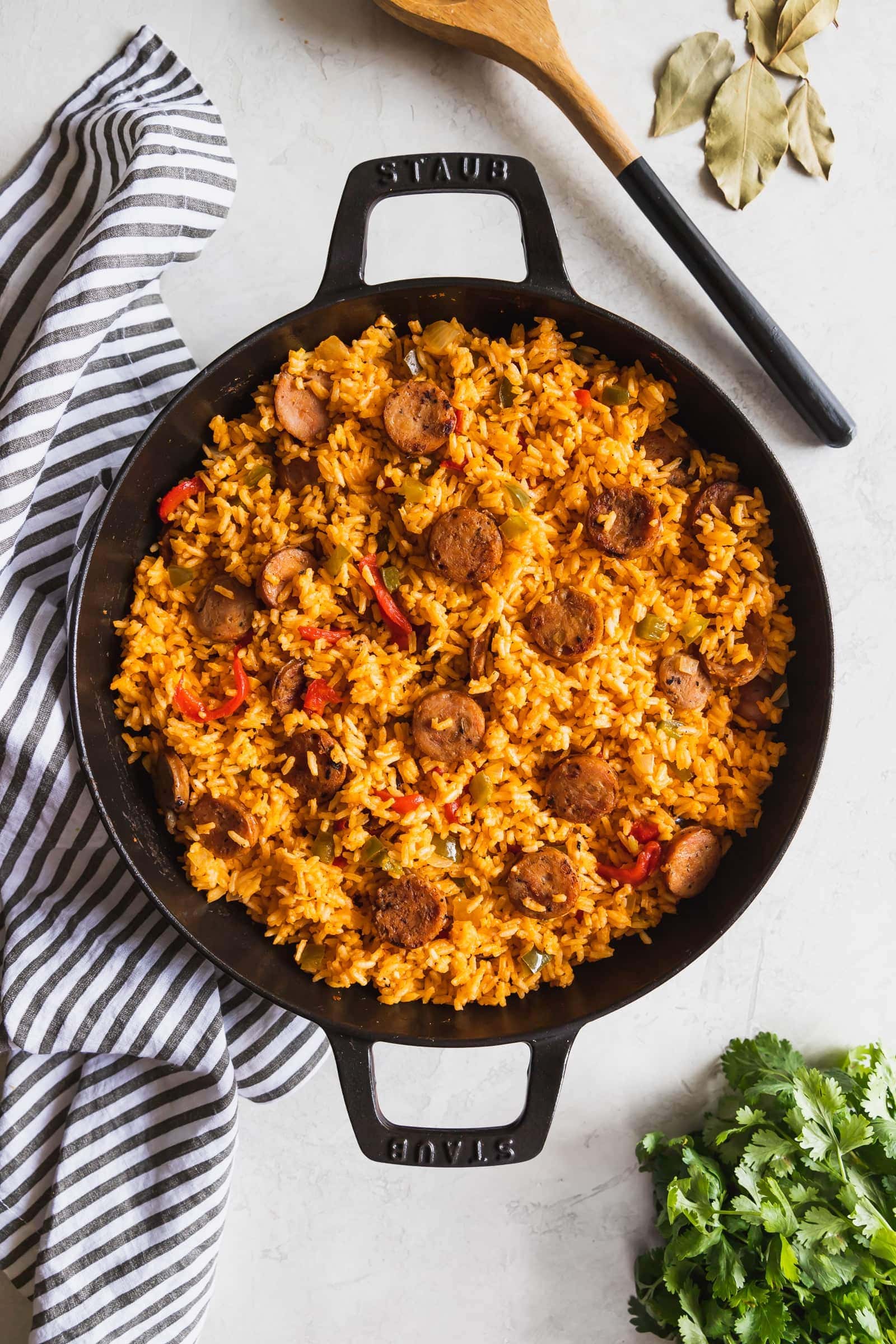 This post has been sponsored by MAGGI®. All thoughts and opinions are my own.
I don't know about you but when you're brought up in a Cuban household, one of the main things Cuban moms teach you is that you must eat WHATEVER is offered to you in another household. You say thank you and EAT IT.
"Don't embarrass me." – Cuban moms everywhere.
Even if you've never eaten said thing before, you just have to pretend. When I was 11 years old, my mom went back to visit my family in Cuba for two weeks. It was the first time I was going to be away from her for so long. Imagine being 11 years old and your mom is not home to love you, cook for you, DO EVERYTHING that supermoms do for you. AHHH.
On one of those nights, my aunt invited us over for dinner. She made us arroz con salchicha (pronounced: sal-chee-chuh), a Cuban-style yellow rice with sliced Vienna sausages. The most Cuban dish on Earth.
This flavorful yellow rice is made with onions, garlic, peppers, pimentos, tomato sauce and MAGGI® bouillon cubes. Once it's fluffy and delicious, you add sliced Vienna sausages straight from the can. That's it. It's actually pretty freaking delicious BUT at 11 years old, I'd never had it before!
To everyone's surprise, I cleaned my plate! My aunt, knowing how picky I was and recalling that my mom had literally told her "please make sure she doesn't die of starvation because she is the pickiest eater in America", was beyond shocked. And my mom… was UPSET. "You never eat that when I make it!" Oops! Oh well, she still loves me. And now I love this dish, too!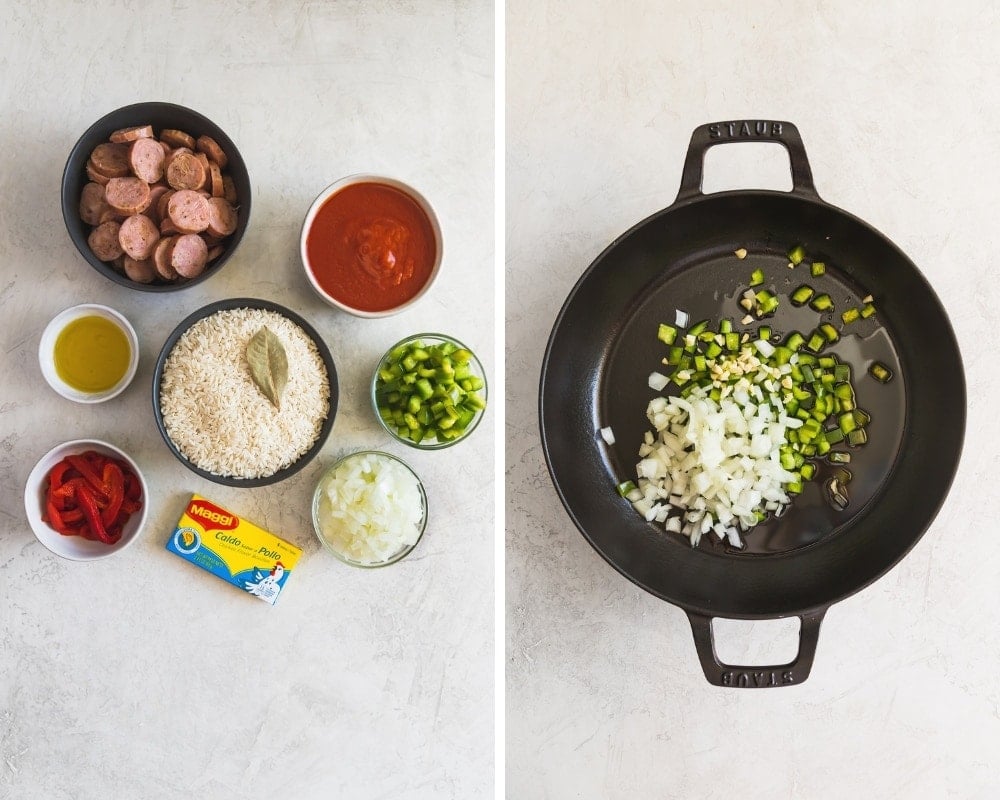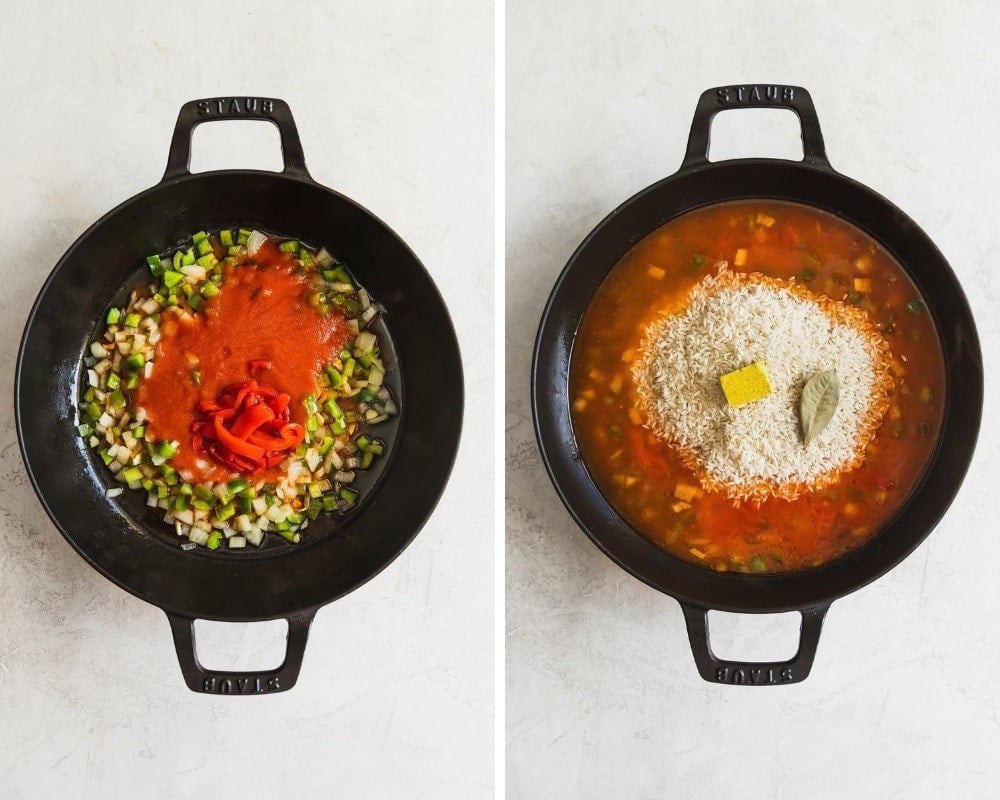 How To Make Arroz Con Salchichas
Here's the thing with Cuban food. Sometimes, it just so takes so darn long to make meals on busy weeknights. With that in mind, I wanted to bring you a quicker version of Cuban arroz con salchica. One you can make in one pot in just 30 minutes using chicken sausages instead of Vienna sausages.
A few notes:
This is a spinoff of my aunt's recipe. A lot of arroz con salchicha recipes on the Internets don't require

MAGGI®

bouillon cubes but my family always uses them for our favorite Cuban dishes because of their versatility and to overall elevate flavor without having to add a ton of spices.
When the rice is cooking, it's important to keep the lid on the pot during the cooking time. The rice will cook with the steam. If you decide to use brown rice, which you can, you will have to cook it longer than 20 minutes since brown rice takes longer to cook.
Feel free to use Vienna sausages instead of chicken sausage. I just wanted to spice things up with another option.
How GOOD does this look?! It tastes delicious, too. I hope you make this and LOVE it as much as I do!
30-Minute Arroz Con Salchichas (Cuban Yellow Rice + Sausage)
A 30-minute version of the Cuban staple "arroz con salchicha" (Cuban-style yellow rice with Vienna sausages) using long grain rice, spices and chicken sausage.
Ingredients
2

tablespoons

olive oil

1

small

onion

chopped

1

green bell pepper

chopped

2

cloves

garlic

minced

1

can

sliced pimentos (4 oz)

drained

1

can

tomato sauce (8 oz)

2

cups

uncooked long grain rice

washed and strained

3 1/2

cups

water

1

MAGGI® chicken bouillon cube

Pinch of achiote, annatto or turmeric powder to color the rice

1

bay leaf

12

ounces

smoked chicken sausages

sliced (or 1 can Vienna sausages, cut in half)
Instructions
In a Dutch oven or saucepan, heat olive oil over medium-high heat. Add onion, green pepper, and garlic. Sauté for 5 minutes.


Add sliced pimentos and tomato sauce. Sauté for 1 minute. Add rice, water, bouillon cube, achiote and bay leaf. Bring to a boil.

Reduce heat to low. Cover and simmer until liquid 
is absorbed and rice is tender, about 15 minutes. DO NOT OPEN THE LID. The steam is what cooks the rice. After 15 minutes, remove from heat. Keep the lid on for another 5 minutes. Fluff with a fork.

While the rice is cooking, make the sausages. Add 1/4 cup water to a hot skillet and cook sliced chicken sausages at medium heat, turning them frequently, for about 5-10 minutes until cooked through.
 Cook in batches, if using a small skillet.

When the sausages are done, mix into the rice. Serve immediately. Enjoy!
Nutrition
Serving:
1
serving
Calories:
308
kcal
Carbohydrates:
55
g
Protein:
6
g
Fat:
6
g
Saturated Fat:
1
g
Sodium:
402
mg
Fiber:
2
g
Sugar:
2
g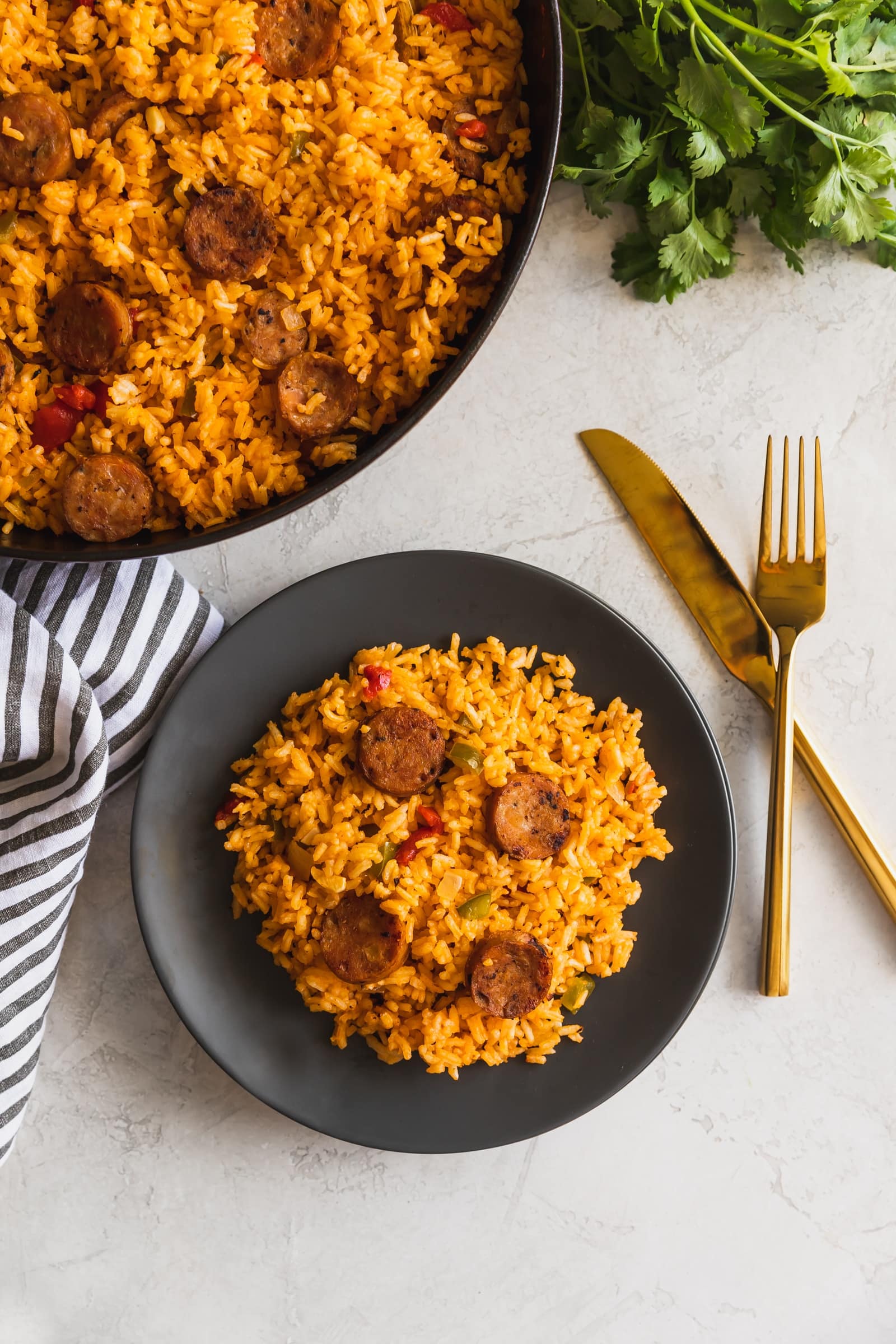 Thank you MAGGI® for sponsoring this post and a HUGE thank you to all the readers of this blog for all your support! xo