These rich and decadent almond butter cups are made with just 5 ingredients – dark chocolate, coconut oil, almond butter, chopped almonds, and sea salt. Perfect healthy-ish snack!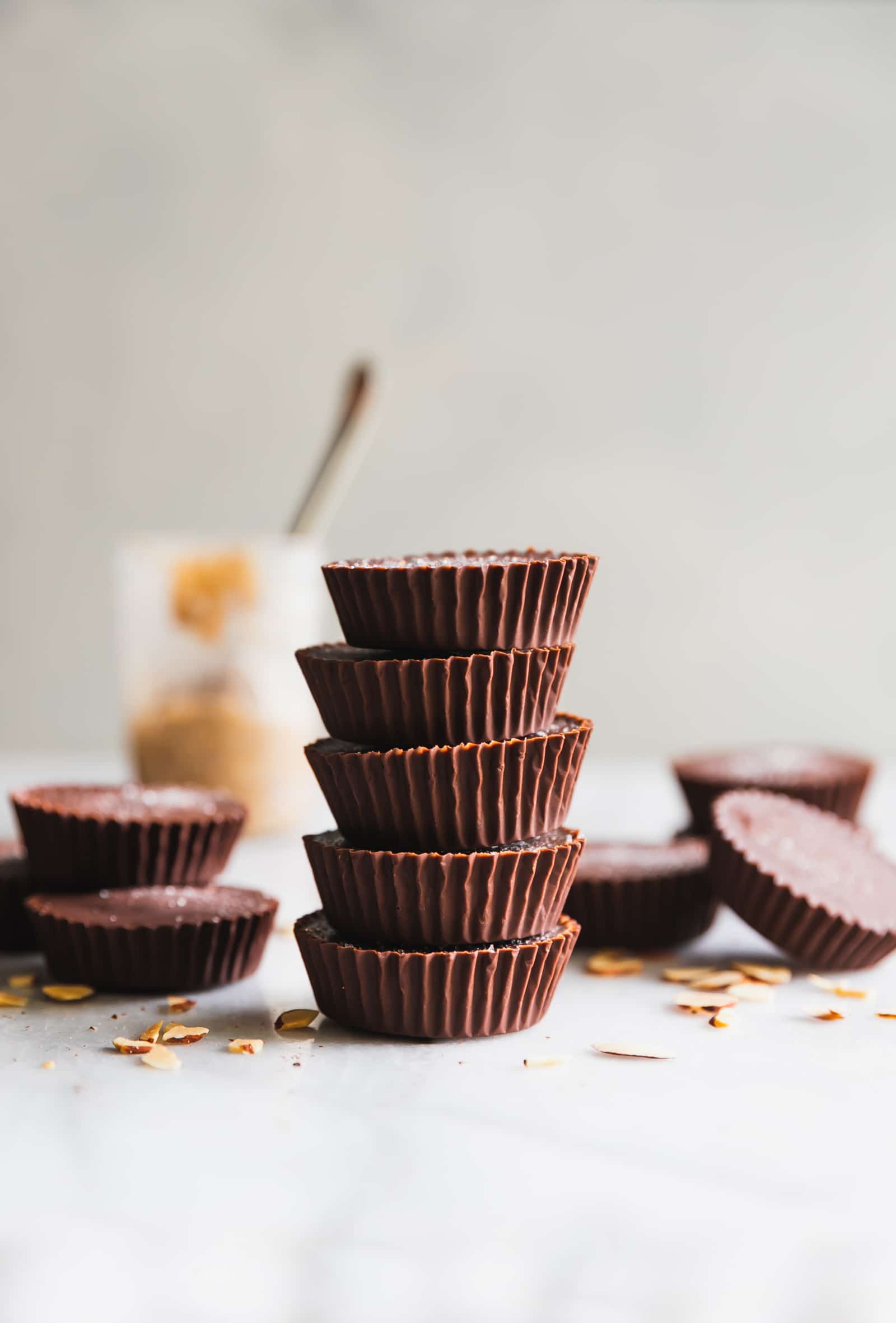 You know those times when your sweet tooth is just completely OUT OF CONTROL and you don't know what to do about it?
Well, I've got the solution for you.
Crunchy dark chocolate almond butter cups!
OH YEAH.
Everyone I know is trying to eat healthier. I am too. And what usually gets me in trouble is my insatiable sweet tooth.
Is that your downfall too? Like I seriously want to know. Tell me in the comments below. I honestly just want cookies and ice cream all day long. But I also don't want to insult my jeans or my bathing suit. They're actually already a little pissed at me.
Soooo…I made these cups. And they help A LOT. They are pretty freaking delicious and super easy to make too. It's the perfect guilt-free snack without all the crazy bad ingredients.
Did you know almonds curve cravings?
Now there are TONS of nut butter cup recipes out there. Some with walnuts or cashews. And you can totally replace the almonds in this recipe with other nuts and seeds. I, however, wanted to use almonds. Here's why…
Almonds are a healthy fat that have fiber and protein which help curve cravings. Let's face it, we ALL need help with cravings. They are also rich in vitamin E, magnesium, and calcium.
That's why making these almond butter cups with great quality almond butter and chopped almonds was clearly a no brainer.
Just 5 Ingredients!
The best part about these almond butter cups is that you don't need an oven. Just 5 ingredients and a freezer.
Dark chocolate
Almond butter
Chopped almonds
Coconut oil
Sea salt
My only tip here is to make sure to use good quality dark chocolate and almond butter. Check the ingredients for any funky stuff.
These are seriously so easy to make, it would be silly NOT to have a bunch of these on hand whenever you need them.
I hope you make them and absolutely LOVE them!
Ingredients
2

tablespoons

melted coconut oil

16

ounces

chopped dark chocolate

1/2

cup

almond butter

1/3

cup

chopped almonds

sea salt for garnish
Instructions
Add cupcake liners to a muffin tin. Set aside.

In a bowl, add coconut oil and chocolate and microwave in 30 second increments until completely melted.

Into each liner, pour a tablespoon of the chocolate. Place muffin tin in the freezer for 5 minutes. In a bowl, mix together almond butter with chopped almonds until smooth.

Remove muffin tin from freezer and add 2 teaspoons of almond butter mixture into the center of each liner. Make sure to smooth out that layer before adding the melted chocolate.

Top the almond butter mixture with the remaining melted chocolate. Sprinkle with sea salt and freeze for 1-2 hours. Enjoy!
---
Nutrition Facts
5-Ingredient Crunchy Almond Butter Cups
Amount Per Serving (1 cup)
Calories 195
* Percent Daily Values are based on a 2000 calorie diet.
SHOP THE RECIPE