Low Carb Spaghetti Squash Shrimp Scampi! Shrimp tossed in an easy-to-make garlic butter sauce then served on top of spaghetti squash.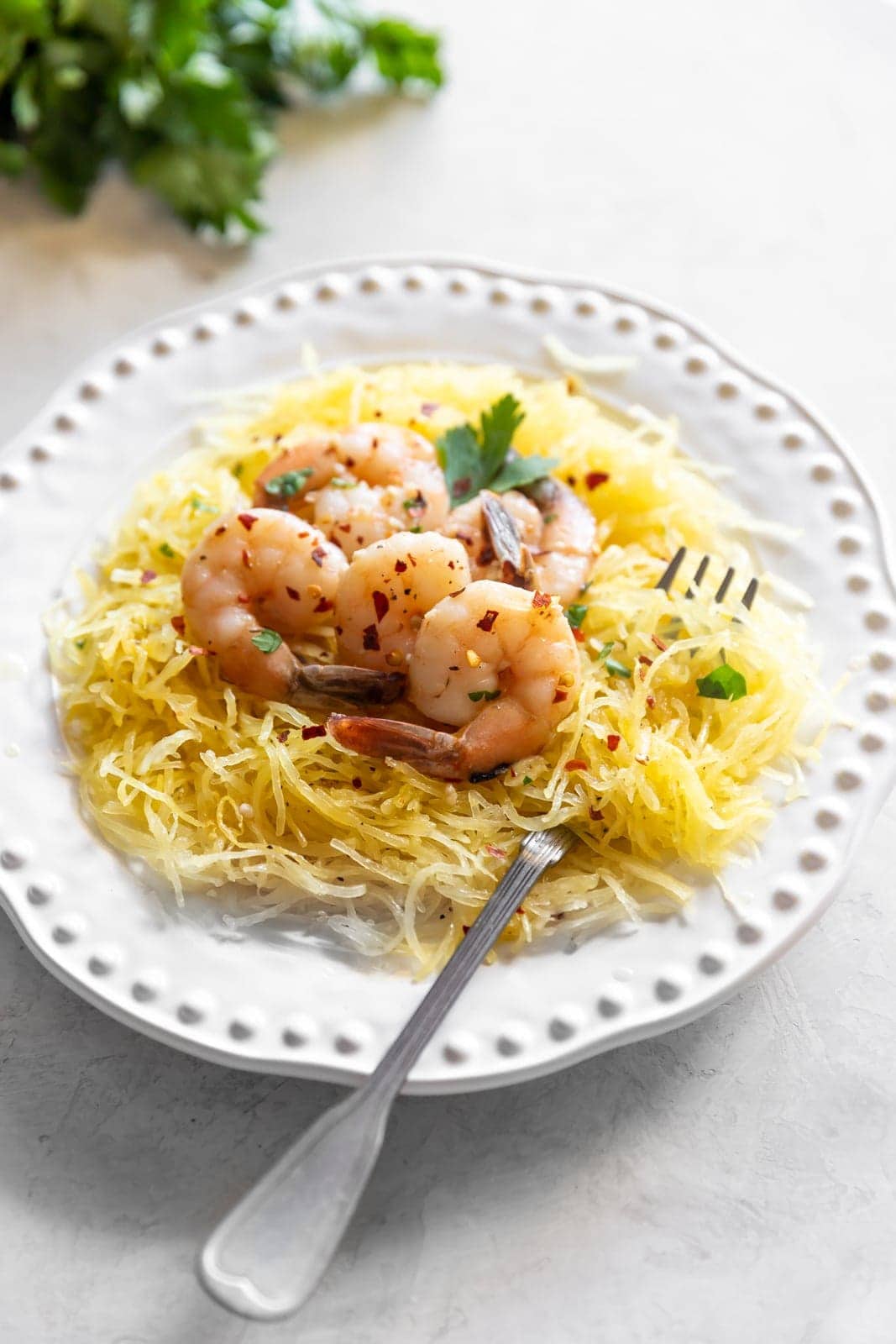 This delicious spaghetti squash shrimp scampi is low carb and the perfect weeknight meal.
Don't let the 60 minutes recipe time fool you. Most of that is hands-off since you have to wait for the spaghetti squash to come out of the oven.
Once you're ready to cook the shrimp, you're done in minutes!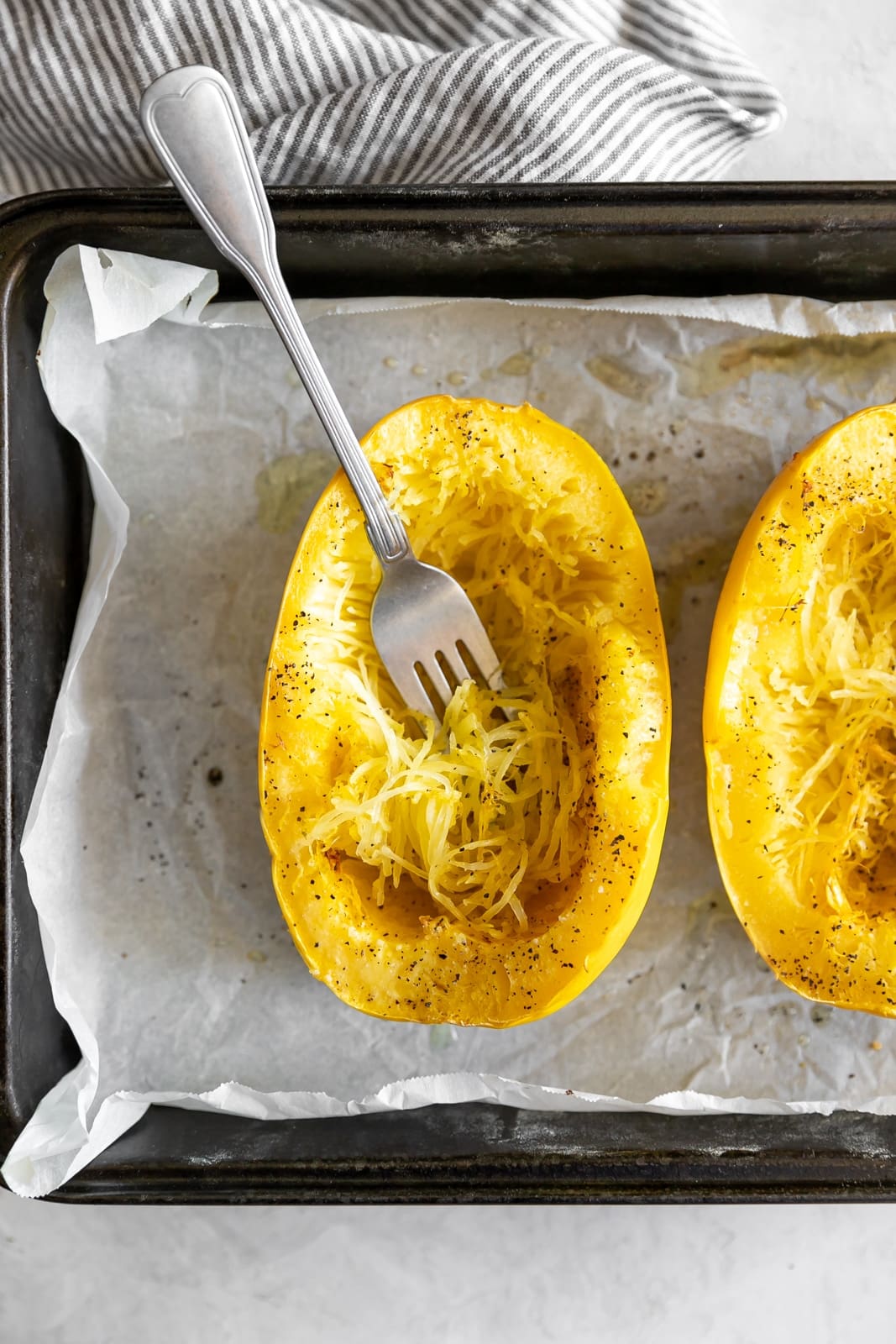 How To Cook Spaghetti Squash
So first things first, let's make spaghetti squash.
You can buy any size spaghetti squash. I try to look for the largest squash just as a personal preference but I've also used small ones too. Just make sure to adjust the cooking time depending on size. Start with 30 minutes. If you see the spaghetti squash needs more cooking time (meaning, it's not tender enough to scrap) then continue to bake in 5-minute increments.
Slice the spaghetti squash lengthwise and remove the seeds.
Drizzle with a few tablespoons of olive oil and season with salt + pepper.
Place it, face down, on a baking pan. Bake for 30-40 minutes at 400 degrees F.
Once the squash is out of the oven, allow it to cool before scraping the sides to make the actual spaghetti.
Baking the spaghetti squash is what takes the longest to make this recipe.
You can always do this ahead of time and transfer it to an airtight container so it's ready to go for the week!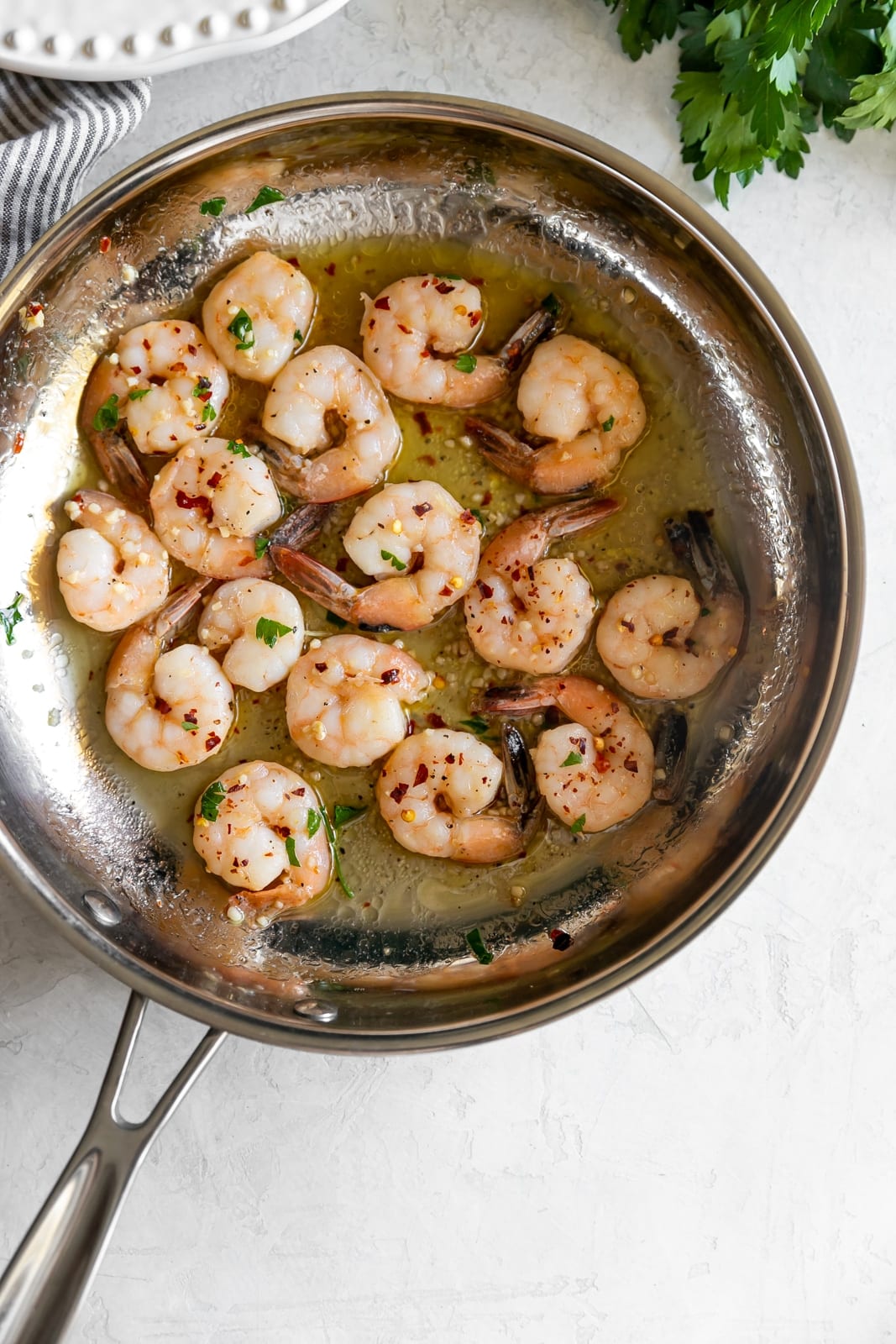 How To Make Shrimp Scampi
Now comes the easy part. The spaghetti squash is ready so now it's time to make the shrimp scampi.
This comes together quickly so I highly recommend having all your ingredients prepped, measured and ready.
Heat up some butter and olive oil in a pan. Add garlic and sauté for a minute.
Add white wine, lemon juice, and red pepper flakes. Simmer for 2 minutes then add the shrimp.
Cook the shrimp no more than 4 minutes. Don't walk away from the skillet. If the shrimp begins to curl, it's overcooked and may taste chewy. Not cute. Pay close attention.
Once the shrimp is done cooking, season with salt + pepper and serve on top of spaghetti squash. That's all folks!
This is a great weeknight recipe that's so flavorful, I doubt you'll have leftovers.
I hope you make it and you LOVE it!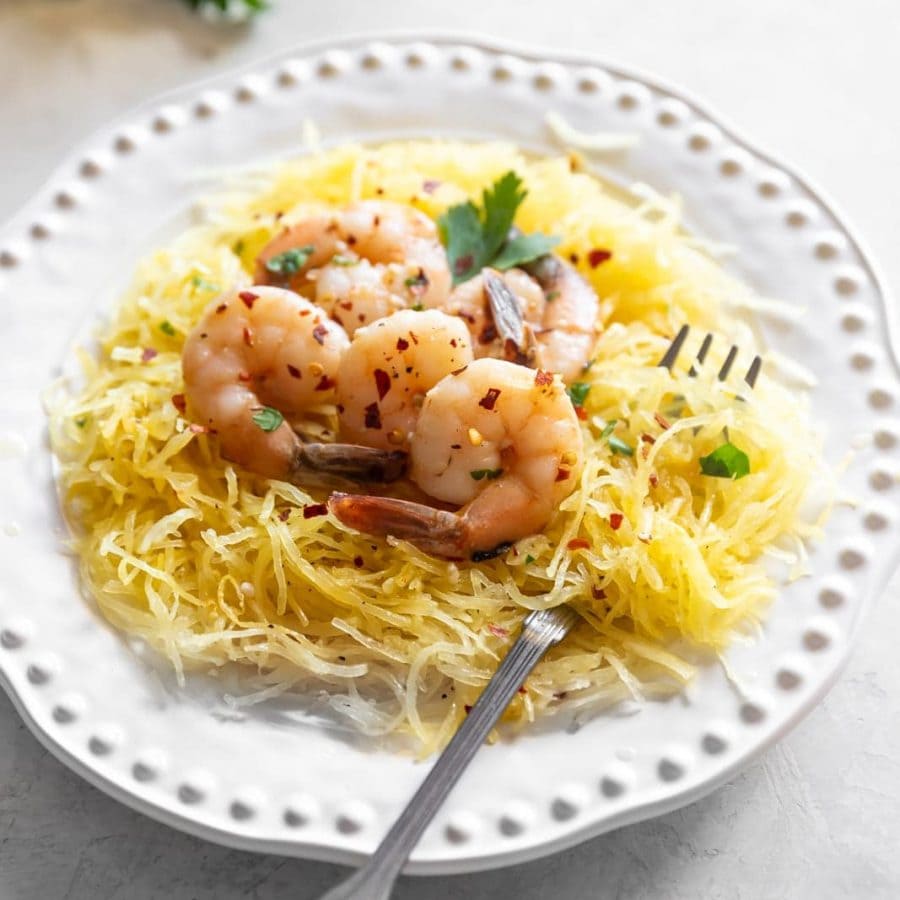 Low Carb Shrimp Scampi Spaghetti Squash
Sautéed shrimp tossed in a quick + easy garlic, red pepper flakes, parsley, white wine, and butter sauce served on top of spaghetti squash.
Ingredients
4 lbs spaghetti squash cut in half lengthwise, seeds removed
4 tablespoons extra virgin olive oil divided
2 tablespoons unsalted butter or 1 tablespoon ghee, if paleo
4 cloves garlic minced
1/2 cup dry white wine
2 tablespoons lemon juice
1/8 teaspoon red pepper flakes
2 lbs large shrimp shelled, peeled, deveined
Salt and pepper, to taste
Chopped parsley for garnish
Instructions
Preheat the oven to 400 degrees F.

Drizzle with 2 tablespoons of olive oil on the spaghetti squash. Season with salt and pepper. Place cut side down in a roasting pan. Bake for 30-40 minutes, depending on the size. Let cool for 5-10 minutes.

While the spaghetti squash is cooling, make shrimp scampi. In a large skillet, melt butter with remaining tablespoon olive oil. Sauté garlic until fragrant, about 1 minute.

Add white wine, lemon juice and red pepper flakes. Simmer for 2 minutes then add shrimp and sauté for 3-4 minutes. Careful not to overcook the shrimp. Season with salt + pepper.

Once the spaghetti squash has cooled, scrape around the edges of the squash using a fork to shred your "spaghetti". Serve shrimp over spaghetti squash. Garnish with parsley. Enjoy!
Notes
Adapted from NY Times and Brit.co
Nutrition
Serving: 1 servingCalories: 354 kcalCarbohydrates: 16 gProtein: 32 gFat: 16 gSaturated Fat: 4 gCholesterol: 391 mgSodium: 1214 mgPotassium: 375 mgFiber: 3 gSugar: 6 gVitamin A: 387 IUVitamin C: 13 mgCalcium: 274 mgIron: 4 mg
This post was originally published in November 2016; Recipe + photos updated in March 2019.
You may also like: