Cubes of toasty French bread mixed with ground beef, ground pork, diced ham, herbs, spices, sliced almonds, chopped olives, and sweet plantains! The BEST stuffing you'll ever try!
Ok, so here's the deal. I'm ALLLLLL about traditional American Thanksgiving.
From sweet potato to corn to green bean, I love all the casseroles. Cornbread, turkey, cranberry sauce, stuffing, I love all of it!
My family on the other hand? Not so much. When you grow up in a Cuban family, they ain't about that cornbread life. Casserole? What's that? No rice!? Wait, no Cuban bread!? Turkey!? But, turkey is too dry. Here's an idea, let's put a TON of bacon strips on it and fry it.
Guys, this is my life.
If it were up to my Cuban family, Thanksgiving would be EXACTLY like Christmas Eve. Do you know what a Cuban Christmas Eve looks like? Tons of pork with crispy skin because the entire pig was made/smoked in a box under ground in your backyard. I'm not joking. See here.
There's also tons of different kinds of rice, black beans, plantains – fried, sweet, boiled. Desserts like flan, rice pudding, bread pudding, basically Christmas Eve dinner is what every dinner looks like on any given day in a Cuban household times 1000.
Cuz you know ain't nobody cooking a giant pig in the ground in the backyard every week. Bottom line: We don't mess around when it comes to Christmas Eve. This is the day we look forward to all year. This is our time to SHINE! Noche Buena is where's it's at. This is why I believe Thanksgiving should be done differently. Maaaaybe with a little Cuban twist because it's the only way to compromise in a Latin household.
"Yes mom, we'll have pork on Thanksgiving." Shhh, don't tell her I hid it in this stuffing!
Salty diced ham, ground pork and ground beef with spices, sliced green olives, sliced almonds, and sweet plantains for a little sweetness because HELL TO THE YES. Here's the recipe for Cuban Thanksgiving Stuffing!
This Staub casserole dish is absolutely incredible! It has a porcelain-enamel finish and is microwave/dishwasher safe!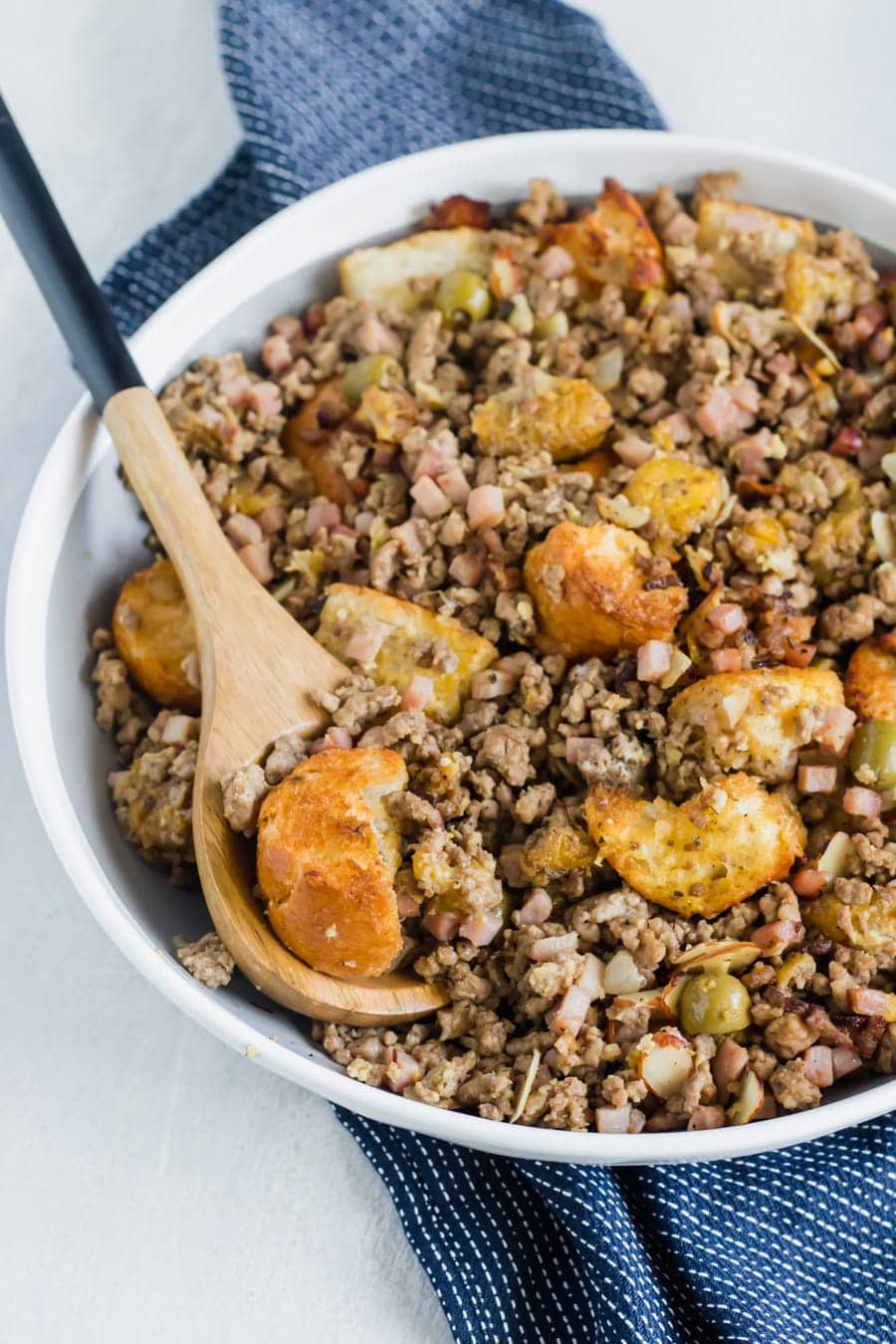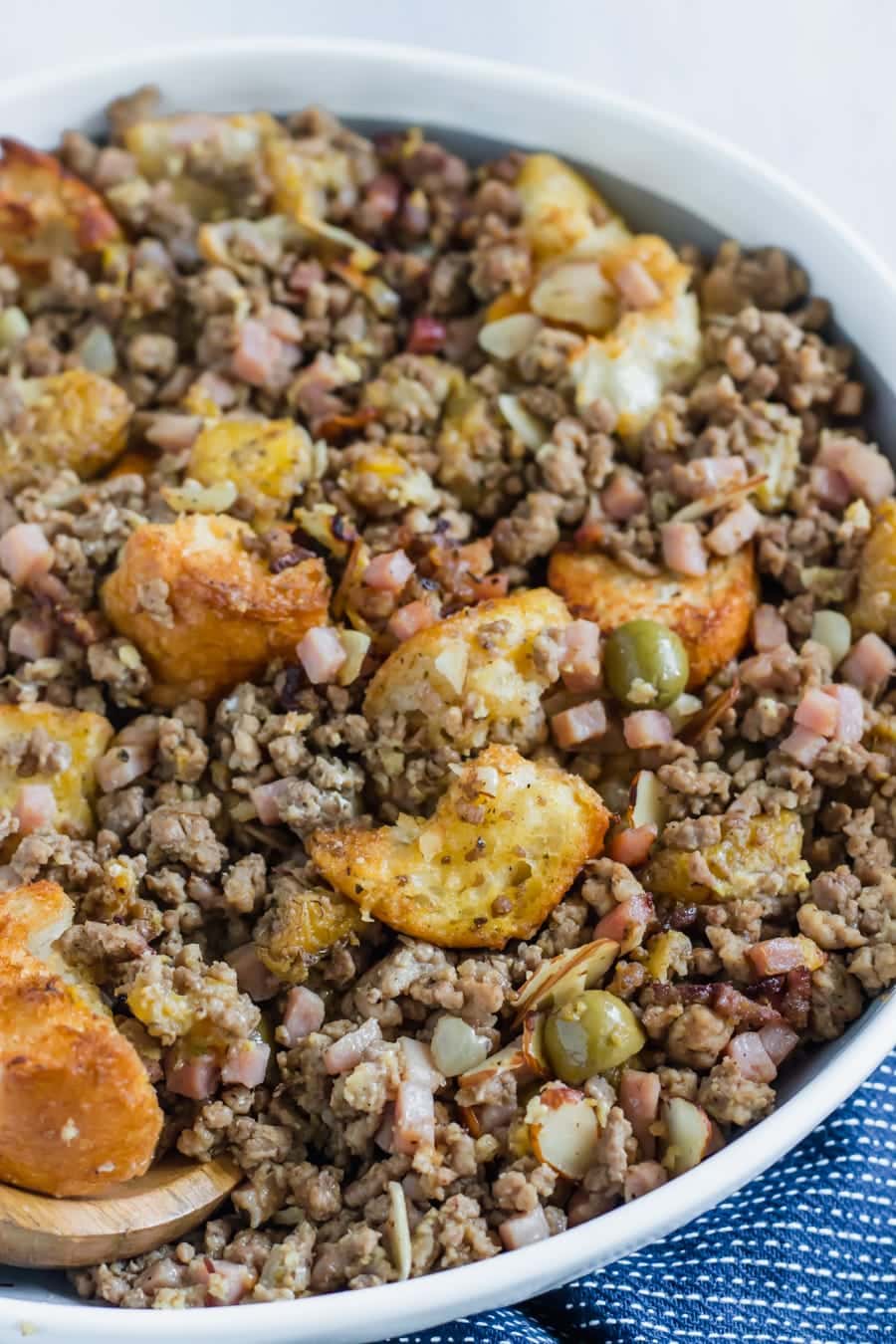 Whether you're looking to bring some Cuban flair to a potluck, Friendsgiving, or your Thanksgiving table, this one's a winner in my book.
I hope you make this and you absolutely LOVE it!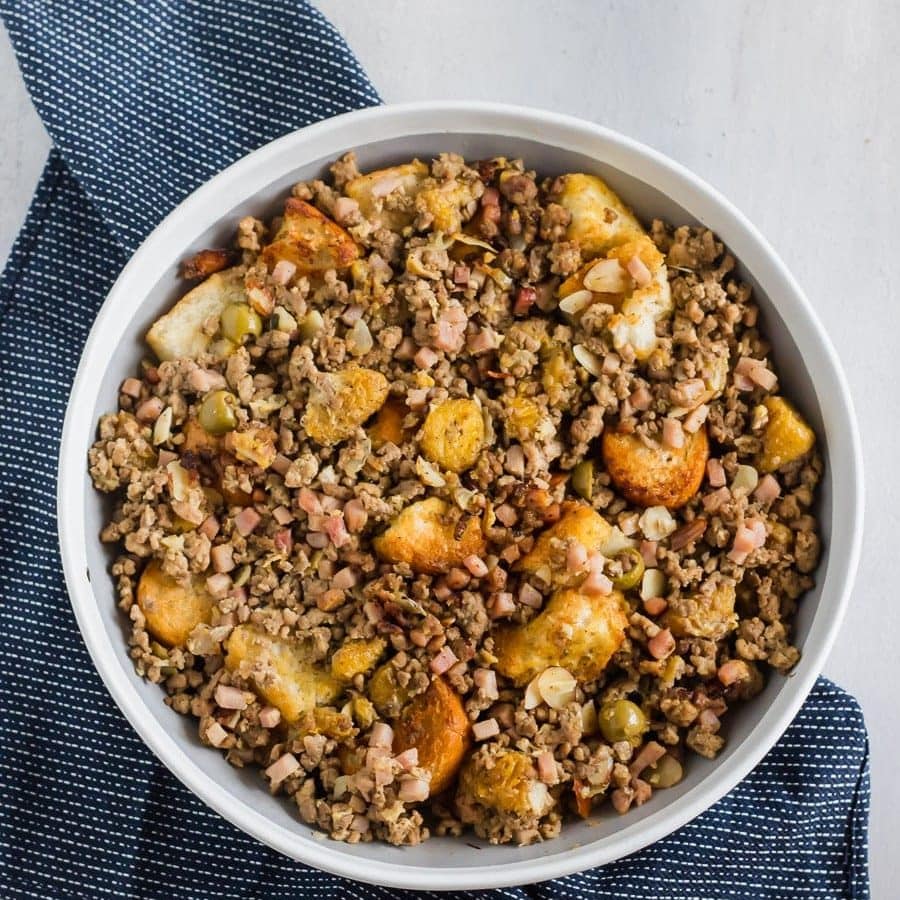 Cuban-Style Three Meat & Plantain Stuffing
Cubes of toasty French bread mixed with ground beef, ground pork, diced ham, herbs, spices, sliced almonds, chopped olives, and sweet plantains! The BEST stuffing you'll ever try!

Ingredients
Sweet Plantains (Platanos Maduros) cooked and chopped
1 loaf French bread (Cuban bread or any thick bakery loaf works too)
6 tablespoons unsalted butter cut in pieces, divided
1/2 large onion diced
2 1/2 cloves garlic minced
1/2 lb ground beef
1/2 lb ground pork
1/2 lb diced ham
1/3 cup green olives sliced
1/3 cup almonds sliced
1 teaspoon oregano
1 teaspoon cumin
1/2 tablespoon black pepper
1 bay leaf
1/2 cup chicken stock
Instructions
Preheat oven to 375 degrees F. Add the cubed bread on a baking sheet and bake until bread is dry, about 15 minutes. Remove from the oven and let cool.

In a hot large skillet, add butter, onion and garlic. Sauté for about 5 minutes then add ground beef and ground pork. Cook on medium high heat until ground meat is browned. Drain and return to the heat..

Reduce heat to low. Mix in diced ham, plantains, olives, almonds, oregano, cumin, black pepper, and bay leaf. Stir to combine and heat for 2-3 more minutes. Transfer mixture to a large bowl to slightly cool.

After mixture has slightly cooled, add cubed bread and chicken stock. Mix together until all is well combined. Transfer mixture to a baking dish and bake for 25-30 minutes until bread is golden brown. Serve immediately.
Notes
Adapted from Cuba de Ayer Cuban Cookbook, 1971
Nutrition
Serving: 1 servingCalories: 507 kcalCarbohydrates: 47 gProtein: 23 gFat: 26 gSaturated Fat: 11 gCholesterol: 79 mgSodium: 774 mgPotassium: 526 mgFiber: 4 gSugar: 9 gVitamin A: 789 IUVitamin C: 9 mgCalcium: 65 mgIron: 4 mg
You may also like: