Easy-to-make arepas (pan-fried golden corn cakes) made with black beans, sweet plantains, and mashed avocado. Perfect for any day of the week!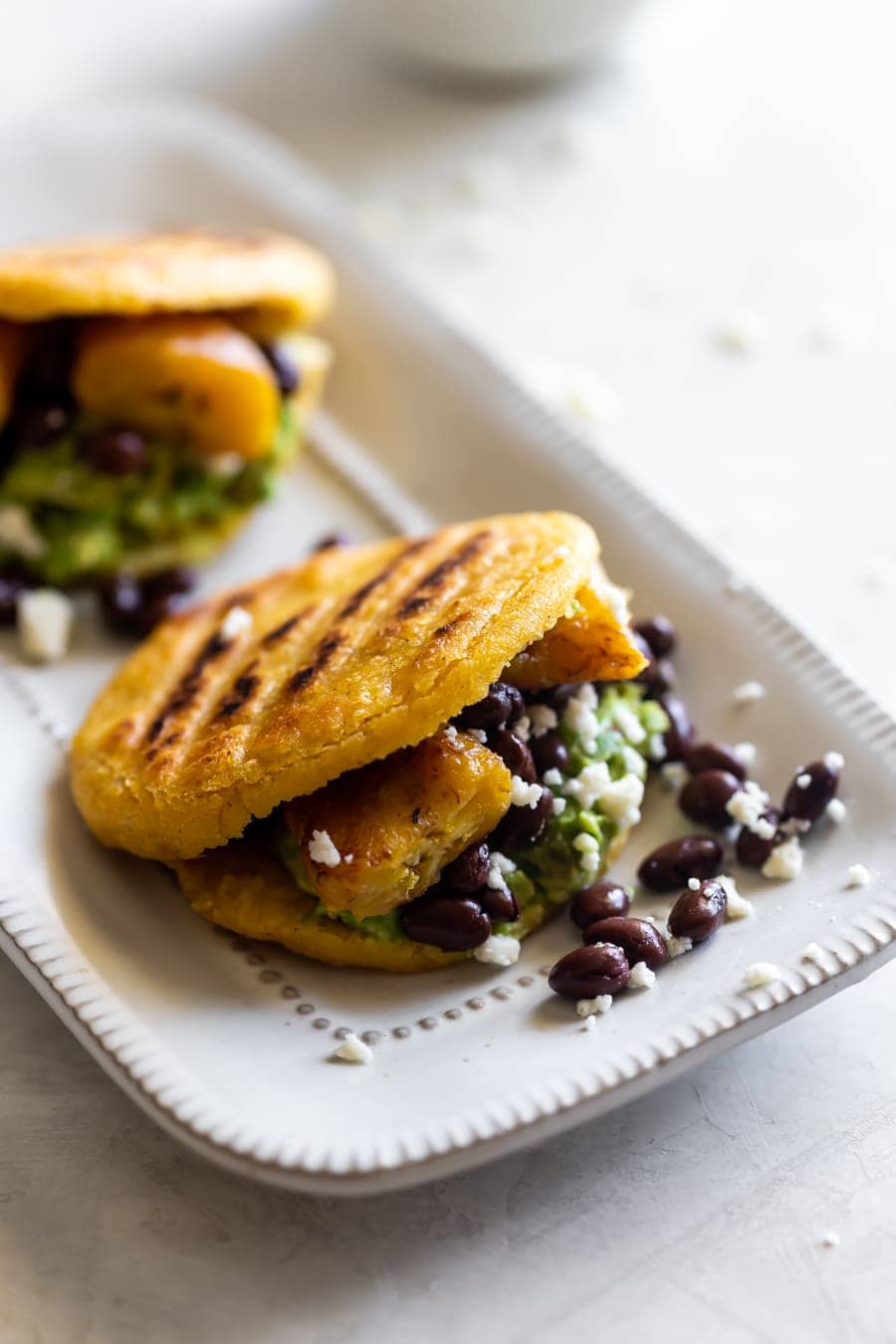 This post is sponsored by Bob's Red Mill. All opinions are my own.
Who doesn't love arepas, am I right!?
In case you haven't heard, arepas are small round patties made with cornmeal, water, and salt. The perfect vehicle for just about any filling. My friends and I make arepas at home all the time. We then fill them up with shredded chicken or cheese. You can even just add butter and that's it. Last Thanksgiving, I made Leftover Turkey Arepas with Cranberry Goat Cheese. They were SO good!
Today, I'm making these vegetarian Black Bean, Sweet Plantains & Avocado Arepas with the help of Bob's Red Mill Golden Masa Harina Corn Flour. Masa Harina is a flavorful flour made from nixtamalized corn (corn soaked in limewater). Bob's Red Mill products are certified Kosher and vegetarian. This product is also vegan, meaning it does not include eggs, dairy or honey.
When I was learning how to make arepas, I was intimidated at first. But I can assure you it's not hard at all, just a little time-consuming. Promise it will be worth it!
Here's how I made these Black Bean, Sweet Plantains & Avocado Arepas!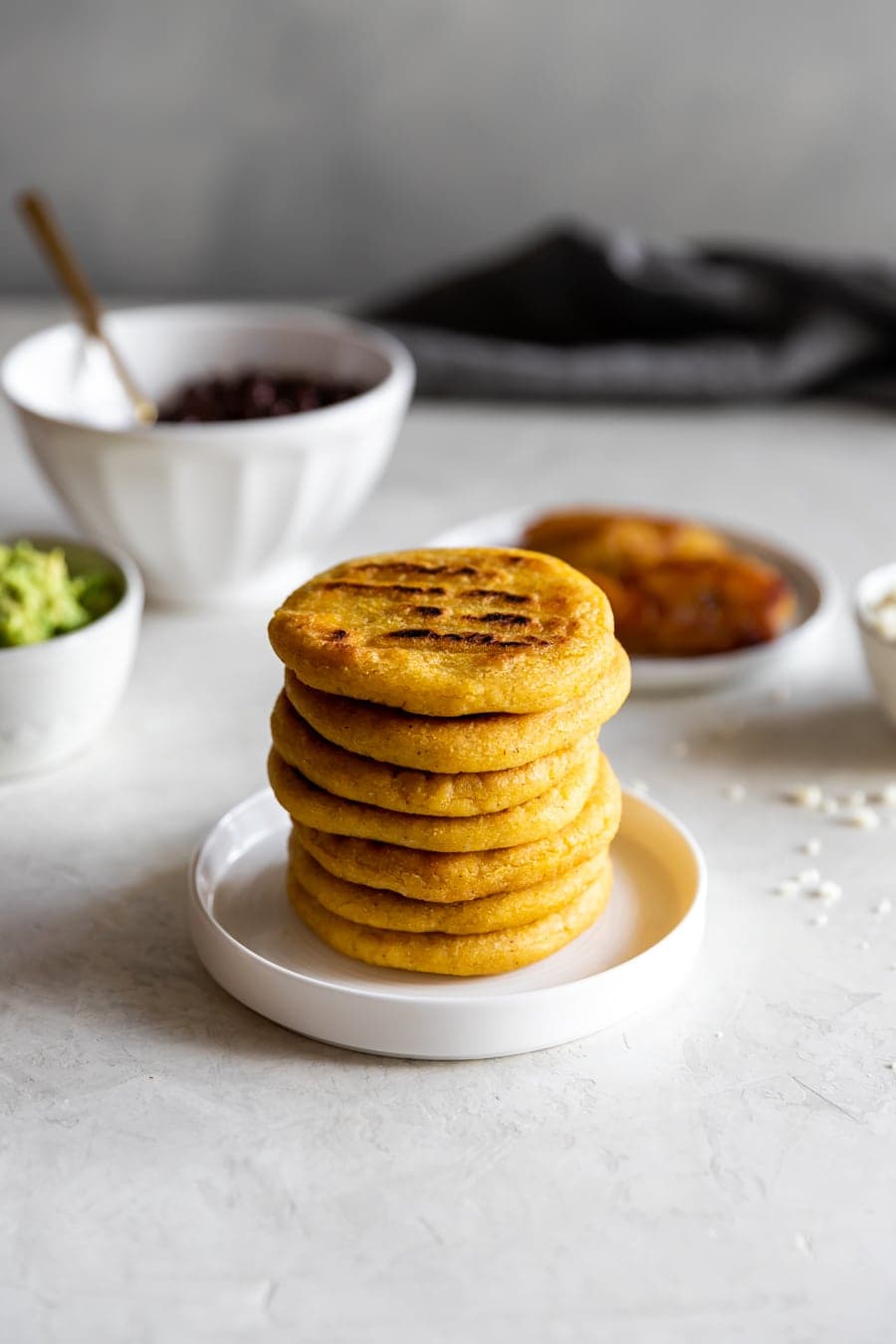 How To Make Black Bean, Sweet Plantains & Avocado Arepas
In a bowl, add the Bob's Red Mill Golden Masa Harina Corn Flour, water, and salt and mix together. The mixture should be sticky but not so sticky that it is sticking to your hands. If the dough is too wet, add a bit more cornmeal.
If it's too dry, add a teaspoon of water at a time until wet enough to form discs. Form into 8 balls and flatten them into 1-inch round discs.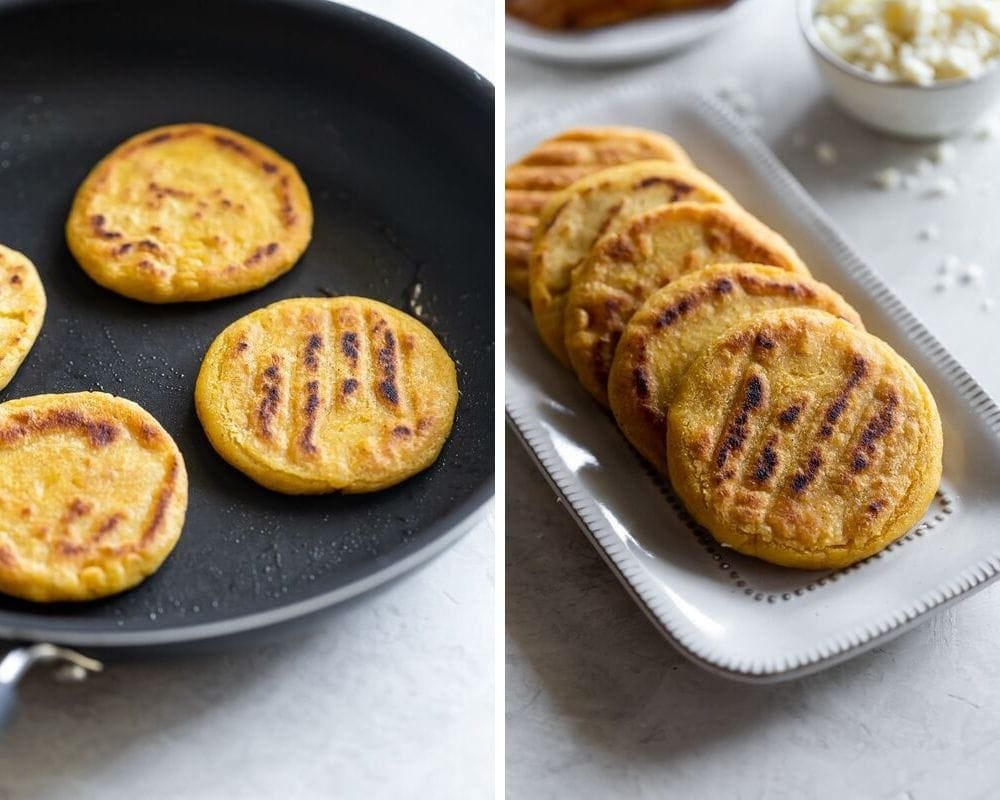 Next, you pan fry the discs, in the skillet, at medium heat, with a little bit of vegetable oil. You don't want them to be soaking in oil. In my skillet, I added 1 tablespoon for every 3 arepas. I made them in 3 batches: 3 first, then 3 next, and then the last 2.
Make sure the arepas cook for 5 minutes, undisturbed, on each side. The outside should be golden brown while the inside is slightly doughy. This is what you want. If you cook them for longer than 10 minutes total, you may run the risk of them being dry. Use your best judgment here.
You can either make the fillings first or the arepas. Up to you! For this recipe, you would need to make the sweet plantains. You can also purchase them already made in the frozen section of the grocery store.
Once all the arepas are done, now you're ready to assemble!
You can use any filling for arepas. But for this recipe, I smeared a big spoonful of mashed avocado then added a spoonful of black beans, 2 slices of sweet plantains, and a crumble of queso fresco. GUYS IT WAS SOOOO GOOD!
I wish I was eating one right now!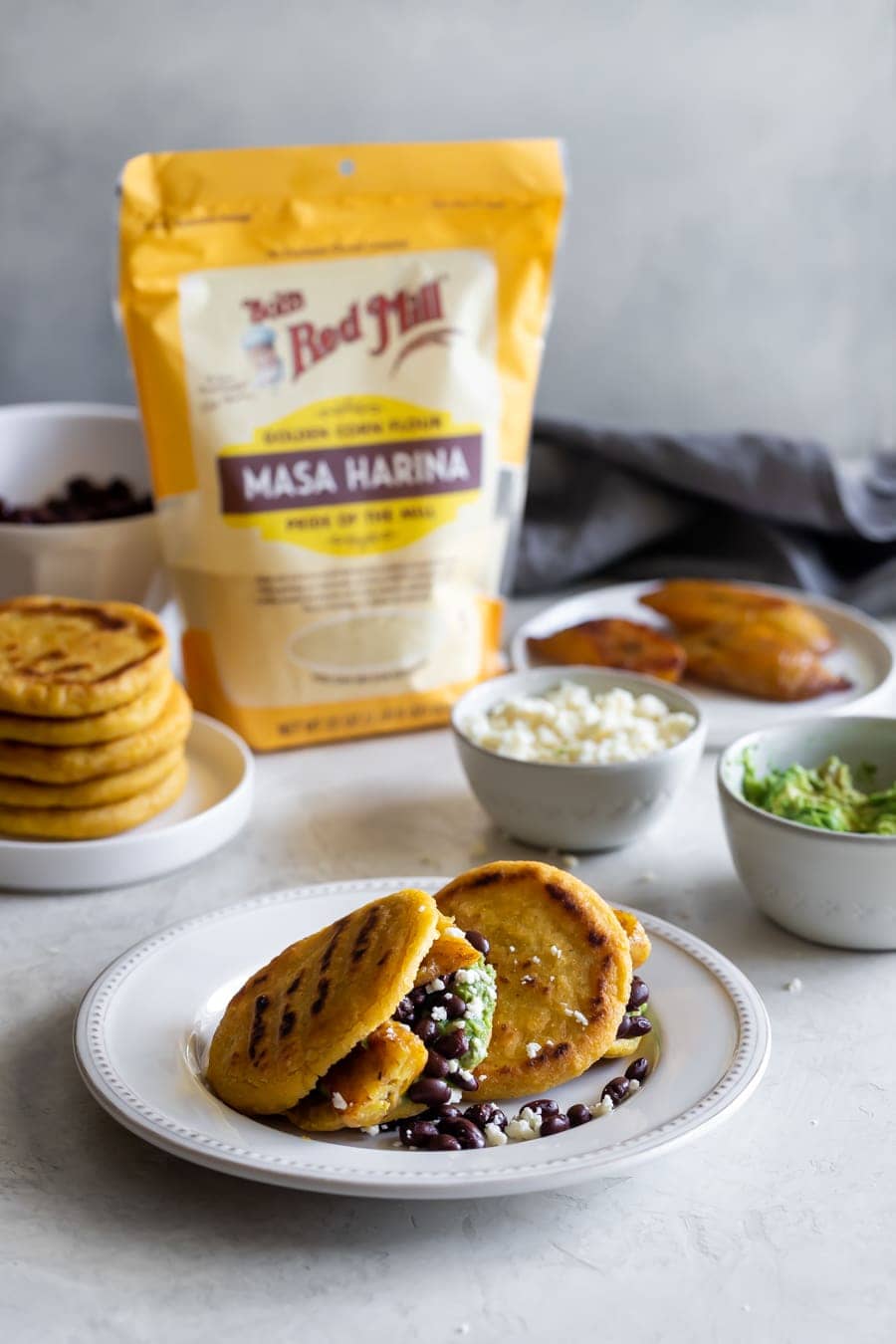 Can't wait for you guys to make this recipe!
Ingredients
2 1/2

cups

Bob's Red Mill Organic Masa Harina

1

teaspoon

salt

2

cups

warm water

1

can

black beans

,

drained (10 oz)

1

large

avocado

,

mashed

Additional fillings

,

shredded cheese, sliced or mashed sweet potatoes, shredded chicken or meat of your choice
Instructions
In a bowl, add the cornmeal, salt, and water and mix until well combined. Let the mixture rest for 10 minutes.

Using your hands, form 8 balls of the arepa dough. Flatten each ball until each is 1-inch thick. You may have to wet your hands a bit to work the dough.

In a large skillet, heat oil over medium heat. Add 3-4 arepas at a time. Pan fry for about 5 minutes on each side until golden brown. Repeat with remaining oil until all the arepas are cooked.

Transfer arepas to a paper towel-lined plate to drain. (The outside of the arepa will be golden brown while the inside is slightly doughy. This is what you want. If you were to fry it longer, it may dry out.)

Once they are cool enough to handle, cut a 4-inch pocket on the side of the arepa or cut in half. Add desired fillings. Serve and enjoy!
---
Nutrition Facts
Black Bean, Sweet Plantains + Avocado Arepas
Amount Per Serving (1 arepa)
Calories 249
Calories from Fat 81
% Daily Value*
Fat 9g14%
Sodium 237mg10%
Potassium 440mg13%
Carbohydrates 41g14%
Protein 6g12%
Vitamin A 494IU10%
Vitamin C 9mg11%
Calcium 49mg5%
Iron 3mg17%
* Percent Daily Values are based on a 2000 calorie diet.
Thank you Bob's Red Mill for sponsoring this post and a HUGE thank you to all the readers of this blog for all your support! xo
You may also like: