Turn pizza into a croqueta! These bite-sized Pizza Croquettes are crispy logs filled with mozzarella, tomato, and spices. Small bites with BIG pizza flavors.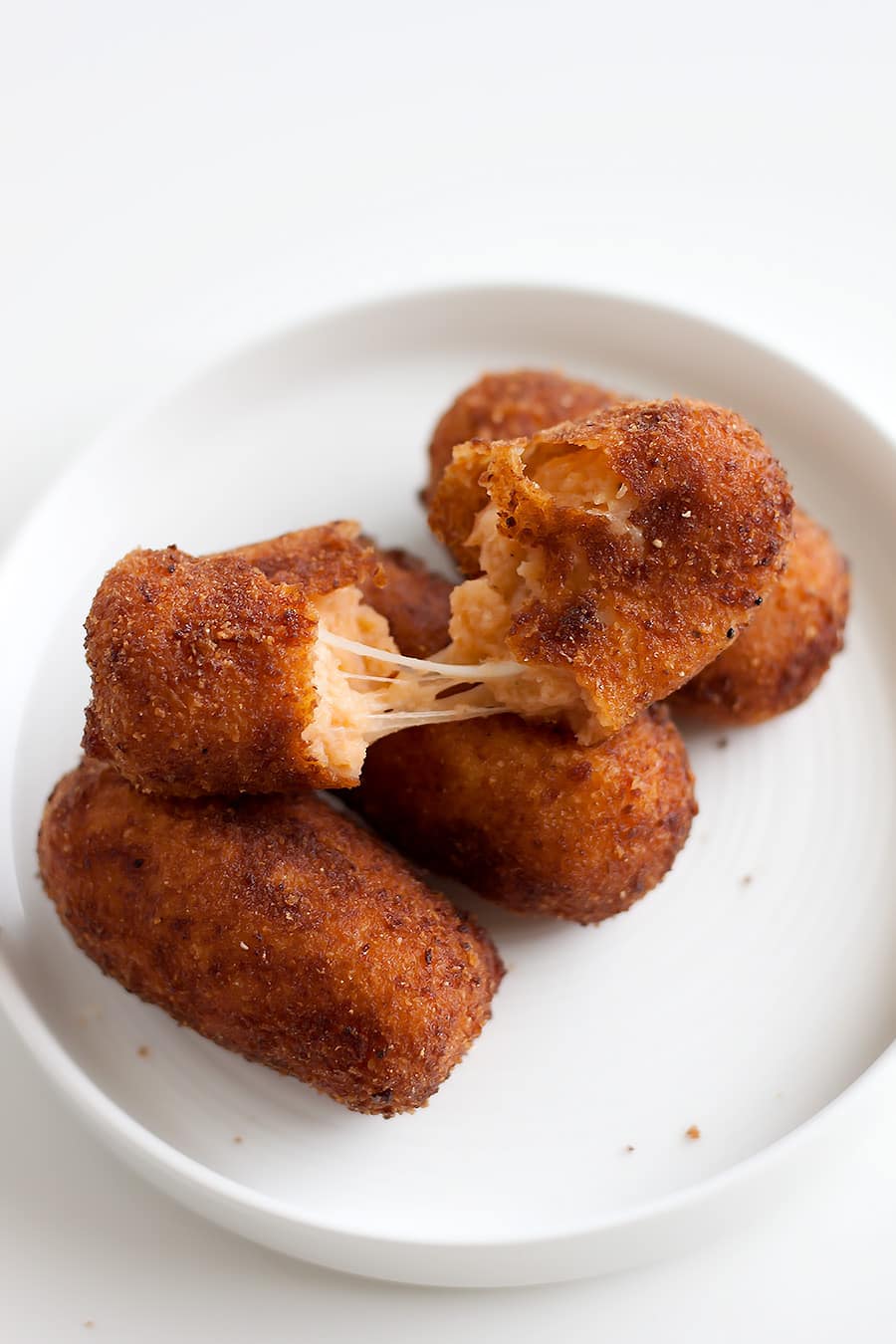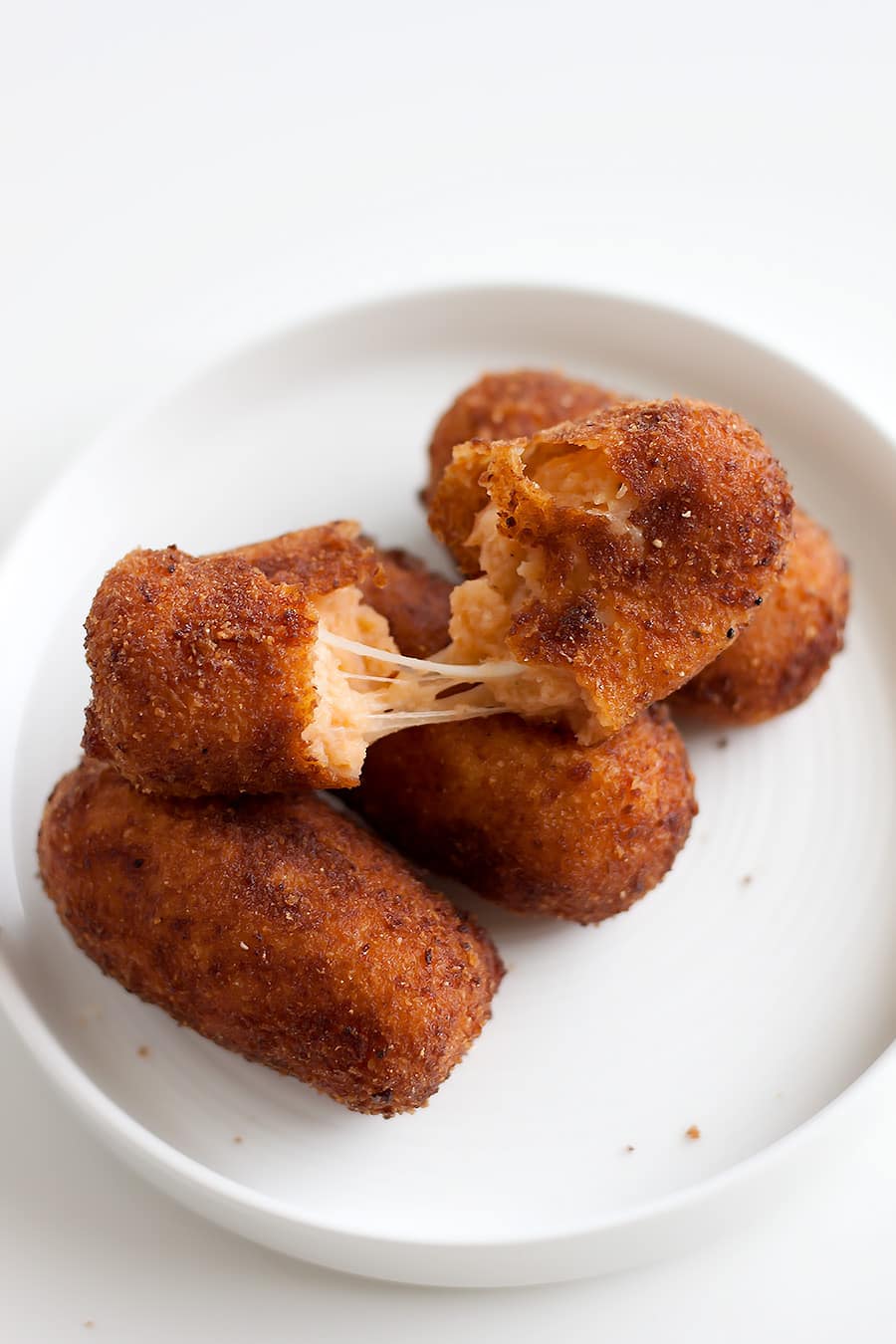 As you know my love for croquetas (croquettes) knows no bounds. My favorite type are ham croquetas. Obviously, right? It was one of the first recipes I posted on this blog. I live in Miami, croquetas are life over here!
Aside from croquetas, there's another food that I can eat all the time and never get tired of it. Can you guess what it is?
If you guessed pizza, you are CORRECT!
So I thought why not turn a pizza slice into a croquette!
Similar to how I made ham croquettes, I took the same idea and added pizza flavors up in there!
All you need to make regular croquetas is to first make a filling using milk, flour, salt, pepper, and [insert variations here]. From there, you refrigerate it, then form logs, bread them, fry them and that's how croquettes are born.
With a little effort and some creativity, the possibilities are endless.
For these pizza croquettes, I used complete seasoning with a pinch of red pepper flakes, shredded mozzarella, grated parm, and tomato paste.
The result was pretty impressive. You get BIG pizza flavors in one small bite!
If you don't have Complete Seasoning, I gotchu!
6 tablespoons of garlic powder, 4 tablespoons onion powder, 4 tablespoons salt, and 2 tablespoons pepper, cumin, dried parsley, and oregano.
Don't be scared to create fun recipes in the kitchen. At first, I was nervous about how these would turn out but I was very pleased with the final results.
Get inspired!
[clickToTweet tweet="Can't wait to turn pizza into Pizza Croquettes!" quote="Can't wait to turn pizza into Pizza Croquettes!"]
I hope you make it and you LOVE it!
Ingredients
4

tablespoons

butter room temperature

1

cup

milk room temperature

3/4

cup

flour

1/2

teaspoon

salt

1/8

teaspoon

pepper

3/4

tablespoon

Complete Seasoning or 3/4 of the homemade seasoning recipe above

1

pinch

red pepper flakes

1

cup

shredded mozzarella cheese divided

1/4

cup

grated parmesan cheese

2

tablespoons

tomato paste

2

eggs beaten

1

cup

breadcrumbs

vegetable oil
Instructions
Melt butter in a saucepan on medium-low heat. Slowly, whisk in milk, flour, salt and pepper. Constantly stir until a thick sauce forms.

Add the Complete Seasoning, red pepper flakes, 1/2 cup of shredded mozzarella, grated parmesan cheese, and tomato paste to the sauce. Mix it all together slowly. Let it simmer for 5 minutes on low heat.

Let the filling rest at room temperature then refrigerate for 2 hours. The mixture has to harden in order to form into logs and coat evenly. If this step is skipped, it will be very hard to form logs, coat with breading, and fry. This is an important step.

To make the croquettes, spoon approximately 1 tablespoon of the mixture and form a log 3 inch long and about 3/4 thick. Using the remaining shredded mozzarella, grab a pinch of mozzarella and add it into the middle of the log before you completely form it. This is where the melty cheesy goodness comes into play! Repeat until you have all the croquettes done.

Crack and whisk eggs in a bowl and place the breadcrumbs in a second bowl. Dip each log in the egg and then completely cover in breadcrumbs. Let them rest at room temperature for 5 minutes before frying.

In a large frying pan, add enough vegetable oil to cover the croquettes completely. Make sure the oil is at 375 degrees F (medium heat). Fry each one until golden brown, approximately 3-4 minutes each. Don't crowd the pan. Gently transfer to a paper towel lined plate to drain. Serve hot.
---
Thank you for being here! <3