Creamy mac and cheese mixed with crumbled Mexican chorizo and a cheesy chicharrón (pork rind) crumble topping. A Latin twist on an American classic!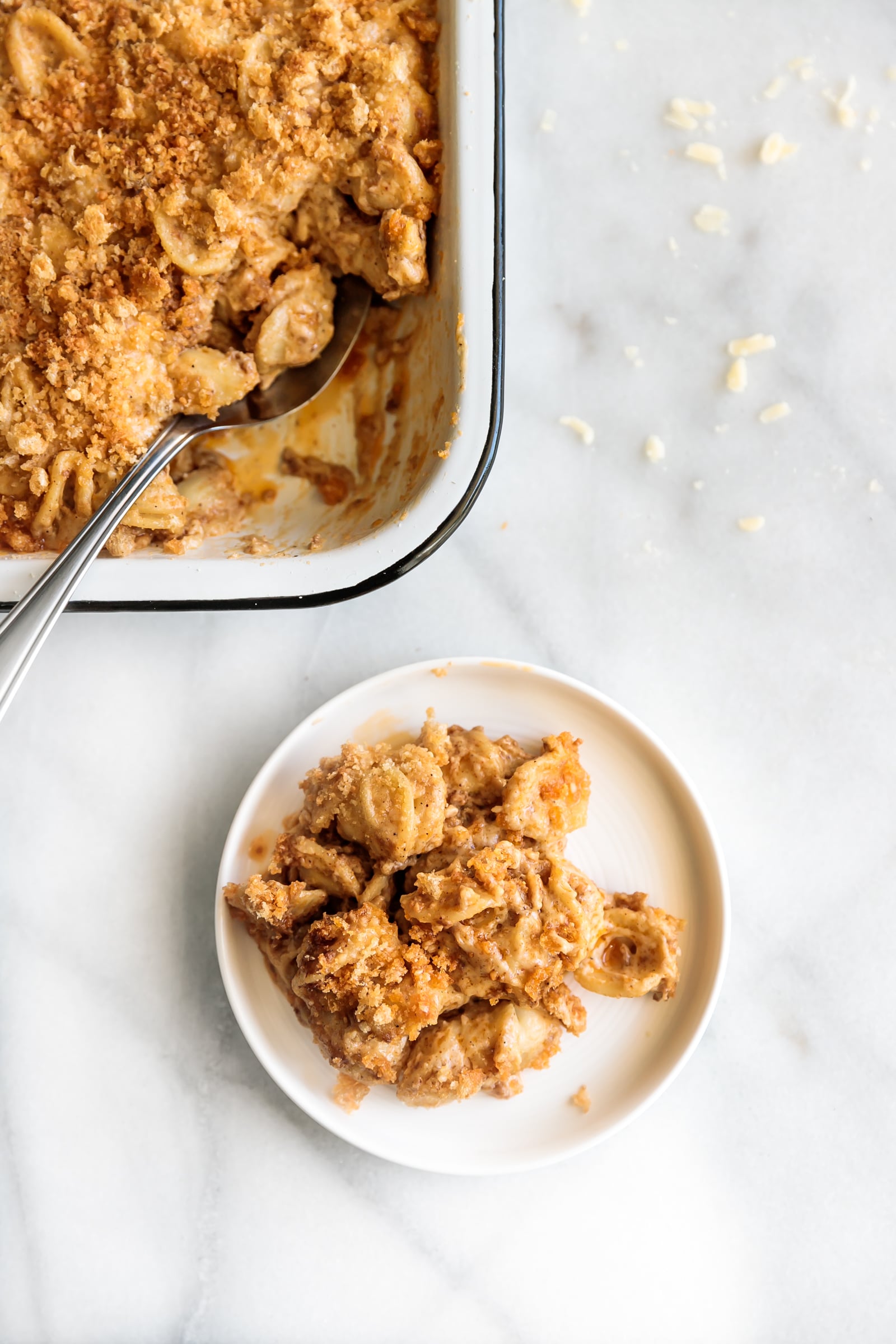 This post is sponsored by Wyke Farms. All opinions are my own.
A few weeks ago, I asked you guys on Instagram if you wanted to see pasta recipes.
I got an emphatic YES from that poll. I was surprised to see so many pasta lovers! A lot of you wanted to see saucy, creamy pasta recipes and well…today I'm excited to bring you just that. I'm partnering up with Wyke Farms to bring you this super cheesy mac and cheese recipe made with their Ivy's Vintage Reserve Cheddar, Mexican chorizo and a cheesy chicharron (pork rind) topping.
Oh yeah, welcome to comfort food heaven! I mean, does it get any better than this?!
Wyke Farm's Ivy's Vintage Reserve Cheddar is made using grandmother Ivy's 100 year old family recipe. It's sharp, sweet, nutty flavor makes it easy to eat on its own or with crackers as a snack. It's also absolutely perfect for melting in a cheese sauce for pasta!
Like I did today!
You guys, this chorizo mac and cheese is just TO DIE FOR. So indulgent, creamy, and delicious. Ideal for a big gathering, holidays, or a weekend treat!
Best part about it – it's ready in less than 30 minutes. You know how much I love quick and easy meals!
OH and can we talk about this cheesy, crunchy topping?
Being Latina, I grew up eating chicharrones (fried pork belly). Obviously not all the time as it is not the healthiest thing in the planet. But it was common for my dad to come home with a bag or little box of them to enjoy as an appetizer. Yes, these were appetizers… !!!  This is what they looked like.
For this recipe however I wanted to try out using crushed chicharrones (aka pork cracklings/rinds; the ones that come in a bag that you can find in the chip aisle) as a topping instead of the traditional bread crumbs. I thought – what if I crushed pork rinds, mixed it with a little bit of parm and used that as topping. HELLO GENIUS.
The crunchiest, most delicious topping for mac and cheese I've ever tasted!
Imagine that crunch, mixed with a flavorful crumbled Mexican chorizo and a creamy, cheesy, nutty mac and cheese. WHOA.
This chorizo mac and cheese is beyond your wildest dreams.
I hope you make it and LOVE it!
Chorizo Mac and Cheese with Cheesy Chicharrón Topping
Ingredients
16

ounces

orecchiette or your favorite pasta

4

tablespoons

butter

2

tablespoons

flour

3

cups

whole milk

Salt and pepper to taste

1/2

teaspoon

smoked paprika

4

cups

Wyke Farm's Ivy's Vintage Reserve Cheddar

shredded

4

ounces

crumbled Mexican chorizo

cooked and drained

1/2

cup

finely crushed pork rinds

1/2

cup

grated Parmesan cheese
Instructions
In a saucepan, cook macaroni according to package instructions until al dente. Drain and set aside.

In a large pot, melt butter over medium-high heat. Whisk in flour and cook for 2 minutes to create a roux. Whisk milk, salt, pepper, and smoked paprika then cook until mixture thickens, about 3 minutes.

Reduce heat to medium-low. Add the cheddar and stir until cheese is completely melted. Add in cooked orecchiette, cooked crumbled chorizo and carefully stir to combine.

Preheat broiler and lightly grease a 9x13 baking dish. Transfer mac and cheese to baking dish. In a small bowl, combine crushed pork rinds with parmesan and sprinkle on top of mac and cheese.

Place baking dish in broiler and broil for 3-5 minutes until the topping is golden brown. Serve immediately. Enjoy!
SHOP THE RECIPE

---
Thank you Wyke Farms for sponsoring this post and a HUGE thank you to all the readers of this blog for all your support! xo
This page may contain affiliate links. This means that if you click on one of the product links above and complete a purchase, I'll receive a small commission at no extra cost to you. I will never place a link nor make a recommendation on a product or service that I don't love or use personally. Thank you for keeping A Sassy Spoon, sassy. ;)