Reduce food waste with these helpful tips and delicious recipes to repurpose leftovers and use up ingredients left in your kitchen.
Last week, I asked you guys via Instagram Stories what are some ingredients in your kitchen that usually spoil because you don't use them up on time. You all gave me such great answers that I want to help you repurpose those ingredients. To do that, I've partnered with Morton Salt to #EraseFoodWaste by turning those leftover ingredients into delicious recipes!
Overall, the idea is to plan ahead before tossing out ingredients. A recent survey stated 42% of millennials say they waste at least 20% of the fresh food. Isn't that crazy? Before traveling this holiday season, make plans to put these ideas to use and #EraseFoodWaste! You can also learn more about reducing food waste by visiting Morton Salt's website to see tips by Joel Gamoran, host of A&E's Scraps and National Chef for Sur La Table.
Ok now for the recipes! Let's get things started with…
Greens! This was the #1 answer from the poll.
Leftover greens like kale or spinach, and leftover herbs seem to somehow multiply in your kitchen, huh? The good news is that both of these can be placed in the freezer in an airtight resealable freezer bag for use in smoothies, soups, pesto, breakfast burritos, mac and cheese or omelettes. You can also make cilantro garlic chimichurri, avocado chimichurri or arugula pesto with leftover fresh cilantro, fresh parsley, or arugula. Aside from that, one of my very favorite ways to use up leftover veggies – bibimbap bowls! The word "bibimbap" means "mixed rice" or "mixed meal" in Korean. While my Cuban bibimbap bowl may have specific ingredients, that doesn't mean you can't change it up! Use any variety of leftover veggies (especially those past their prime) and sauté them. Mix them up with cauliflower rice (or regular rice), a protein like a fried egg, and a dash of sesame oil. An easy weeknight meal!
Have leftover eggs?
Make my healthy egg muffin cups with any leftover greens or veggies. This is one of my favorite meal prep ideas. You can use literally any combination of veggies to make these egg muffin cups. I provide several ideas in the recipe. Once these egg muffin cups are cooked and cooled, you place each one in resealable bags in the fridge for up to 5 days. You can also freeze them all in an airtight resealable freezer bag for up to 3 months! Just simply reheat them in the microwave when you're ready to eat.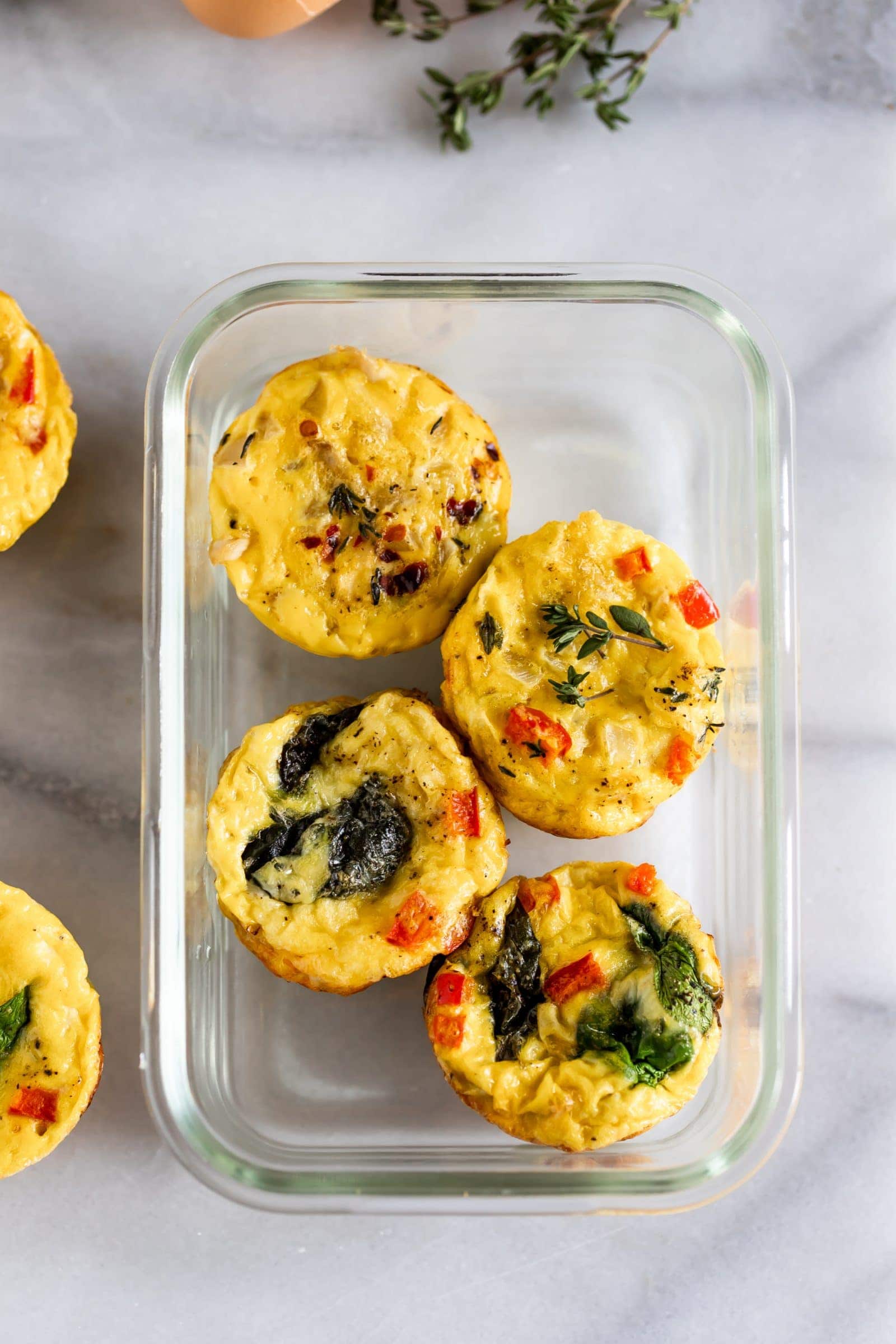 If you have ripe bananas, don't throw them out! You can make my super moist chocolate chip banana bread, chocolate banana bread, banana chocolate chip muffins, chocolate hazelnut banana bread, nutella stuffed banana muffins, almond butter & guava jelly banana muffins, banana almond butter ice cream, or double chocolate banana muffins. So many ideas to choose from!
Have leftover tomatoes and/or canned sauces (like chipotle adobo sauce)? Make my homemade fire roasted salsa! You can add this salsa on top of eggs or omelettes, grilled cheese, tacos, burritos, chicken or just eat it up with homemade tortilla chips.
More Helpful Tips
If you have ripe avocados, you can either make chunky guacamole or mix the avocados with tuna or shredded store-bought rotisserie chicken and eat it with crackers. Did you know avocados make smoothies extra thick and creamy? Wrap the leftover avocados in aluminum foil and freeze them for future use in smoothies. Thank me later. ;)
Any leftover fruit can be placed in the freezer in an airtight resealable freezer bag for smoothies or even homemade nice cream.
Leftover celery? Chop them up and make chicken salad with avocado and shredded store-bought rotisserie chicken or save them for a soup.
Leftover cucumbers? Make cucumber avocado salsa!
Leftover heavy cream? Make my salted caramel cone ice cream or homemade whipped cream for coffee or to top chocolate banana bread.
Leftover yogurt? You can make my cilantro garlic sauce or this simple yogurt sauce.
The possibilities are endless. Did I miss any key ingredients? I can help! Leave them in the comments below. Or do you have any more great tips to reduce food waste? Share them too. I'd love to hear them!
---
Thank you Morton Salt for sponsoring this post and a HUGE thank you to all the readers of this blog for all your support! xo