Flat, fried corn tortillas (aka tostadas) topped with butter lettuce, avocado, flaky white fish, red cabbage, jicama, radishes, cilantro and queso fresco!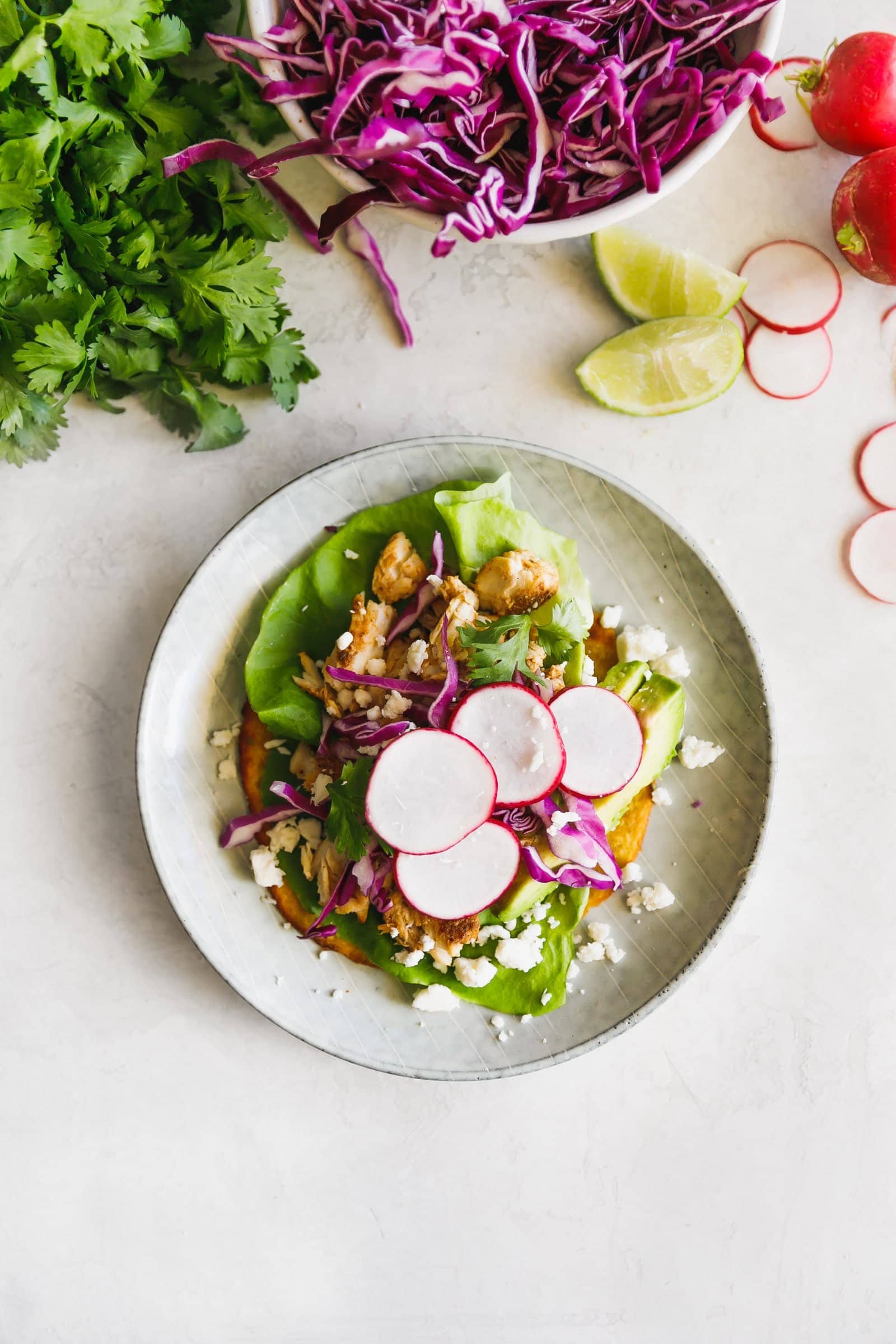 I'm SO excited to share these crispy fish tostadas from Jessica's new cookbook The Pretty Dish!
Jessica Merchant, the mastermind behind How Sweet Eats, just came out with her new cookbook and I've already read it cover to cover a few times. It's one of those cookbooks where you'll actually cook from the entire book. That doesn't happen often. Sometimes you buy a cookbook, cook 2-3 recipes from it and you're done with it. It'll sit pretty on your shelf.
This cookbook is DEFINITELY not one of those. To me, it's going to be like Chrissy Teigen's Cravings cookbook which I basically cooked through entirely.
Truth be told, Jessica was one of the first blogs I ever followed. Back in the day before I had a blog of my own, I was totally obsessed with everything she would post. The story of how she told her husband she was pregnant for the first time will forever live on as the best telling-your-husband-you're-pregnant story of all time. She threw a bun in the oven, an actual hamburger bun, and then she made him look in there and figure out what the heck it meant. Meanwhile, because guys are always clueless, he was all like "are we having hamburgers? I can't eat meat because lent. Are we having cookies though?" HILARIOUS.
I'm totally butchering the story. It was the longest yet funniest post I've ever read.  You can read it here.
ANYWAYS…Tostadasssss.
Well, wait, first of all, I must say it was SO HARD choosing a recipe from this cookbook to do for my blog.
I literally have about 40 bookmarks in this cookbook right now. I mean, she even has a beauty DIY section guys. LIKE WHAT. When does this woman sleep?! I have a theory that she recipe develops, writes, and posts in her sleep. It's the only way! She posts every day! What I'm trying to say is Jessica = GOALS. <3
So I choose these Crispy Fish Tostadas because #1 I absolutely love fish AND #2 it was a deliciously easy meal. My favorite things in one!
The fish was, of course, super flavorful, flaky, and light. And then with all these toppings? What's not to like. The crunch from the tostadas along with the radish, cabbage, avocado (hail the queen), cilantro and queso fresco; it just screams weeknight dinner. This meal is exactly what should be on your dinner rotation.
I hope you make it and LOVE it! (and buy Jessica's cookbook too!)
Crispy Fish Tostadas
Flat, fried corn tortillas topped with butter lettuce, avocado, flaky white fish, red cabbage, jicama, radishes, cilantro and queso fresco!

Print
Rate
Ingredients
FISH
1

cup

all-purpose flour

1

teaspoon

garlic powder

1/2

teaspoon

onion powder

1/2

teaspoon

smoked paprika

1/2

teaspoon

salt

1/4

teaspoon

chipotle chili pepper

10

ounces

beer

your fave

1/4

cup

vegetable oil

4

fresh cod fillets

4 ounces each
TORTILLAS AND TOPPINGS
2

tablespoons

olive oil

6-8

corn tortillas

Fresh butter leaves

Sliced avocado

Sliced red cabbage

Thinly sliced jicama

Thinly sliced radishes

Chopped fresh cilantro

Crumbled queso fresco cheese
Instructions
TO MAKE THE FISH
In a bowl, whisk together the flour, garlic powder, onion powder, paprika, salt and chili pepper. Pour in the beer and whisk until a smooth batter forms.

In a large nonstick skillet, heat the oil over medium-high heat. Working in batches, dip the fish in the batter and coat in completely, then drop it in the skillet to fry. Let each piece of fish fry for 6-8 minutes, turning once, or until golden and crispy and it flakes easily. Gently remove the pieces with a spatula and place them on a paper towel-lined plate to absorb any liquid. Repeat with all the fish, adding more oil if needed.
TO MAKE THE TORTILLAS
Heat a large skillet over medium heat and add about 1 teaspoon of olive oil. Add tortilla and cook for 4 minutes, turning once, or until golden and crisp on both sides. Remove the tortilla and set it on a paper towel to drain any excess oil and cool and crisp up slightly. Repeat with the remaining olive oil and tortillas.

Top the tortillas with butter lettuce and avocado. Add on the fish and top with cabbage, jicama, radishes, cilantro, and queso fresco. Enjoy!
SHOP THE RECIPE

---
This page may contain affiliate links. This means that if you click on one of the product links above and complete a purchase, I'll receive a small commission at no extra cost to you. I will never place a link nor make a recommendation on a product or service that I don't love or use personally. Thank you for keeping A Sassy Spoon, sassy. ;)