As an entrepreneur, I wear many hats in my business. Owner, creative director, operations, saleswoman, strategist, mentor. As a food blogger, I wear even MORE hats — recipe developer, food photographer, writer. It's all too easy for me, a workaholic by nature, to become consumed with my business. When you're passionate about what you do, you just want to do it all the time. If you're not careful however, you can get so overwhelmed, drained and stressed that you eventually burn out.
Unless you've been in an entrepreneur's shoes, I don't think you understand the severity of the word "burnout". Burnout doesn't happen suddenly when you wake up one day, like catching a cold. It creeps in slowly over time. You begin feeling irritable and tired all the time. Eventually, you start to lose motivation. Or you feel like you're not doing enough when you're working 10+ hours a day. Your energy levels are depleted but you're just trying to get work done. That's what burnout feels like and it's not pretty.
Instead of allowing things to get to this breaking point, let's get battle ready, shall we? These strategies have helped me immensely with productivity in the past. Doesn't mean I'm perfect by any means but I definitely know when I've had to slow down before things get too crazy in my psych.
1. Stop the glorification of "busy".
For years, I've heard the "never not working" statement thrown around like it was badge of honor. Almost like boasting about the fact that being busy 24/7 equals success. And having tons on your plate means you're making tons of money. I was of that mindset at one point too until I realized being "busy" was becoming idolized.
Case in point: Gary V. I love him, I love his rants and his videos but his whole 19/5 mentality where you must work 19 hours and sleep for 5 was just not my jam. Who wants that life? Not I. Granted, when you're first getting started, working nonstop may be the move for a while. Once you're making steady money however, it's best to slow things down for your own sanity. I made a vow to myself early last year that I would begin working smarter not harder. And guess what? It worked.
Make a promise to yourself to stick to a schedule. Maybe implement 4-hour Fridays or take on less work for a few weeks to give yourself a breather. Your future mental state will thank you.
2. Organize your life.
One of the main things I love to coach my clients on is implementing systems and workflows. Why? Because an organized life is a less stressful life (aka a less busy one too). When you're feeling overwhelmed or stressed, it's probably because you either don't have a plan in place or your schedule is a mess. When I made that vow to myself early last year, I put a few systems in place to make my workload more manageable.
Here's how you can get started. Grab a pen and paper and write out all of your work tasks. Once you do that, create 4 columns with the following categories —
KEEP
AUTOMATE
DELEGATE
DELETE
Now, list every work task under the appropriate category. For example, what you enjoy doing (keep), what systems/workflows need to put in place (automate), what you no longer want to do (delegate) and what isn't really important (delete). I promise doing this exercise will alleviate so much stress or at the very least, it will help you figure out your next step. Sometimes we add so much on our plates when we should be focusing solely on money making tasks and delegating or automating the rest.
I also HIGHLY recommend you task batch similar tasks and time block your days for those tasks. It takes some practice but I've seen my productivity levels soar doing this for myself every week. Try it!
Btw, my coaching program reopens in August, sign up for the wait list by clicking here!
3. Prioritize sleep and mental health.
If you've followed me on Instagram for some time, you've heard me talk about sleep quite a bit. I've suffered from insomnia most of my life. I'm not a morning person at all. Instead, I'm a night owl that gets all her energy at 9pm. So I've had to really make an effort to incorporate a night routine to shut my brain off. And I have to say that prioritizing sleep and my mental health in the last few months has really improved my overall productivity and mindset.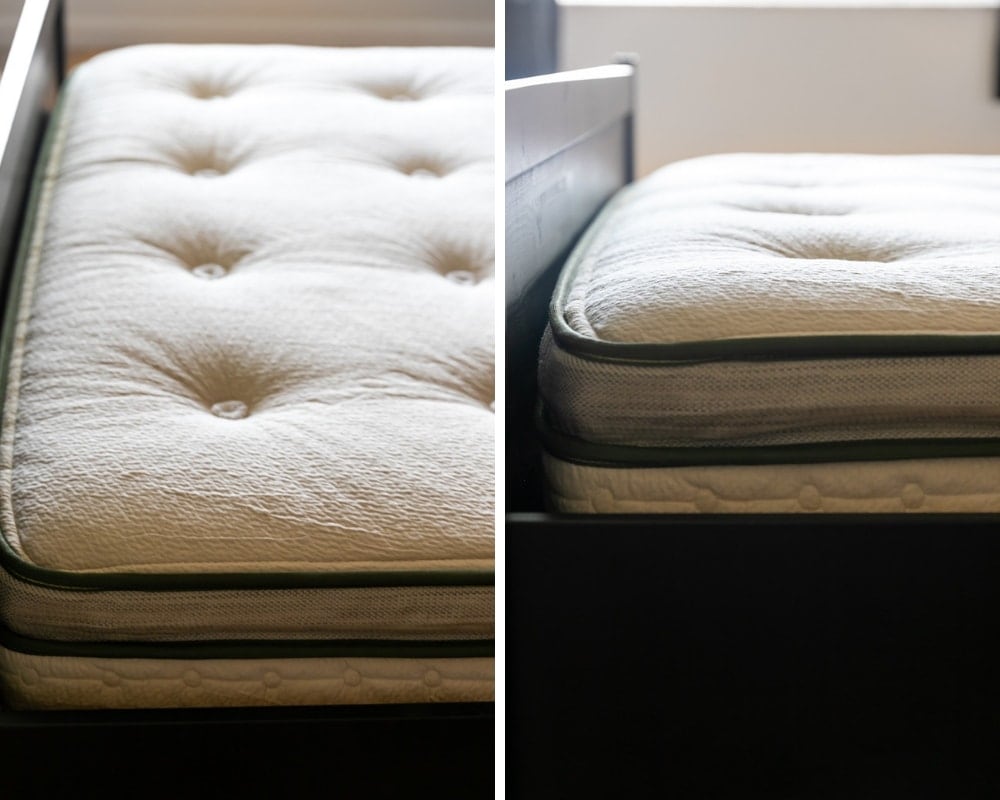 Invest in a new mattress
The first thing I did was buy a new mattress. The rule of thumb is that you need a new mattress every 7-8 years or so. It was definitely time for me to get a new one. After shopping around for a few weeks, I found Avocado Mattress. Their mattresses are made from the finest natural and organic materials, including 100% GOLS organic certified latex from tree-tapped sources, 100% GOTS organic certified wool and 100% GOTS organic certified cotton. No polyester, polyurethane foams or toxic fire retardants are used.
Not to mention, the mattress is very cozy and comfortable. I've had mine for over 2 months and I'm very happy with it. Makes me want to stay in bed all morning! As a matter of fact, I may or may not have worked from bed a few times in the last few months. Shhh, don't tell anyone. ;)
If you're in the market for a new mattress, I highly recommend Avocado Mattress. They personally deliver the mattress to your door, set it up for you and take your old mattress away too. That was a huge selling point for me amongst all the other wonderful things I've mentioned. If you have any questions, let me know!
Invest in sleep aids
The next thing I did was invest in these CBD Sleep Aid Capsules. I was hesitant about anything CBD since there have been so many crappy products on the market. These pills have a pretty legit ingredient list — Melatonin, Valerian root, and only 25 mg of CBD. They helps me unwind so I can fall asleep quicker which is important for night owls like me. Trust me. I wake up refreshed, not groggy like with regular sleeping pills, and feel well rested. I've been sleeping 7-8 hours every night. Highly recommend.
Invest in your mental health
Lastly, if you're not investing in yourself, who will? When I say invest in your mental health, this is what that looks like.
Schedule mental health breaks weekly
Have lunch with a friend
Get your nails done
Exercise or take daily walks around the block
Plan a vacation
Shop for new clothes
Fuel yourself with well balanced meals (brain food!)
You are not your business. You are an entrepreneur that runs a business, don't let it run you! Get organized, schedule some downtime and disconnect as often as you can. You'll come back feeling refreshed and recharged. It will be worth it, I promise.
You may also like:
Thank you Avocado Mattress for sponsoring this post and a HUGE thank you to all the readers of this blog for all your support! xo.