Sweet potatoes cut into fries, seasoned with salt, pepper, and smoked paprika then wrapped in uncured applewood smoked bacon and baked to perfection!
Why does bacon make everything better? WHY? Well, applewood bacon makes everything better. Hehe. Yes, that's my opinion. I think applewood bacon has that perfect sweet salty mix. And to be honest, I really don't like bacon as much as the rest of America.
I know right. WHAT'S WRONG WITH YOU, JAMIE? I'll explain.
As a kid, my mom would buy these little mini cuban bread rolls from our local bakery which were DELICIOUS. Think Cuban bread loaf but small little mini rounds, like those Hawaiian dinner rolls. Mmmm. She would make bacon for breakfast then make bacon sandwiches with the Cuban bread roll on the weekends. Did you get that? Cuban. Bread. Bacon. Sandwiches. I mean how I didn't die from a heart attack at 10 years I'll never know. Bottom line is they were AMAZING.
One morning however, I ate WAY too many of those suckers and almost died. I got SO stomach sick that to this day, I cannot even smell bacon for too long without wanting to barf. I still have nightmares. OVERDRAMATIC. Lol!
Seriously though, I did get very sick. To the point that when I go out for breakfast now, I usually swap the bacon for sausage. I live a rough life.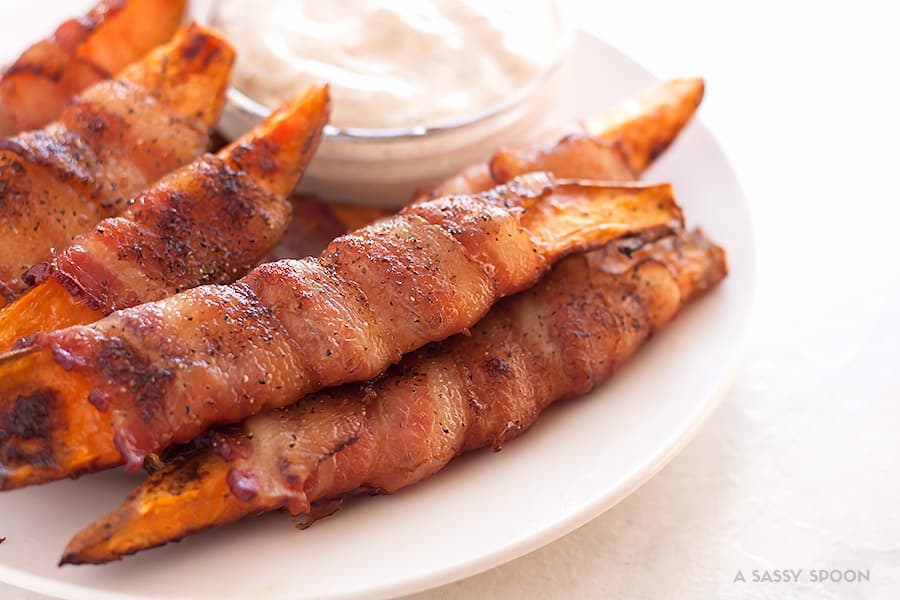 In moments like this however, I make it a point to do whatever I have to do to make bacon a magical thing despite my experience with it as a child. Let's face it, EVERYTHING IS BETTER WITH BACON. Also, sweet potatoes are pretty fabulous too.
So with Thanksgiving around the corner, there's no better time to bring bacon wrapped sweet potato fries to life! But guess what? You can make these babies ANYTIME. Woohoo! We ain't about that holiday-specific life. We're thankful ALL year round!
These bacon wrapped sweet potato fries are SO easy to make. You just cut the sweet potatoes into fries, season them, wrap them in bacon, and bake. Done. Then you get to enjoy the smell of bacon throughout your house! Hooray. Light a candle, it helps. That's what I do. ;)
If you want to save a bit on calories, you can use turkey bacon instead of applewood bacon too. I know your family and friends will love these on Thanksgiving or any time of year. I promise they are crispy, sweet, salty, and with the chipotle sauce that I made…oh man. Ok I'll shut up now so you can grab the recipe. YAY.
I'm going to wow my guests with these Baked Bacon Wrapped Sweet Potato Fries! #appetizers
Click To Tweet
Baked Bacon Wrapped Sweet Potato Fries
Sweet potatoes cut into fries, seasoned with salt, pepper, and smoked paprika then wrapped in uncured applewood smoked bacon and baked to perfection!
Ingredients
3

large sweet potatoes

cut into fries

2

teaspoons

black pepper

2

teaspoons

smoked paprika

15-18

slices

bacon

1 slice per fry. I used uncured applewood smoked bacon. You could also use turkey bacon, if you'd like.
Instructions
Preheat oven to 400 degrees F.

Place the sweet potato fries in a bowl, season with black pepper and smoked paprika, and toss. Wrap each fry with one slice of bacon and place on lined baking sheet.

Bake until sweet potatoes are tender and bacon is crispy, about 30 to 35 minutes. Serve with your favorite dipping sauce.*

*The sauce pictured above is a Chipotle Aioli Sauce that I quickly whipped up using mayo, minced garlic, lime juice, and chili powder. Great pairing if you love the salty, spicy, sweet combo! You can also serve with ranch or BBQ sauce.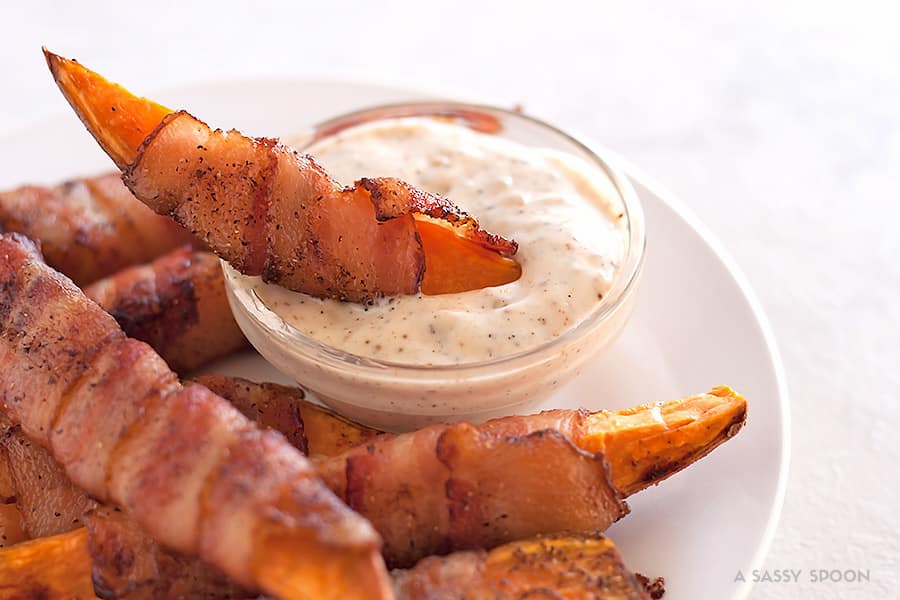 That's all folks. I hope you make it and you LOVE it!
If you've made this or any other recipe, tag me on Instagram with #asassyspoon or comment below. I'd love to hear from you!
Want a FREE weekly meal planner printable plus BONUS meal prep tips? Get it here!
Thank you for being here! <3
---
This page contains affiliate links. This means that if you click on one of the product links above and complete a purchase, I'll receive a small commission. Do understand that I will never place a link nor make a recommendation on a product or service that I don't love or use personally. Thank you for keeping A Sassy Spoon, sassy. ;)